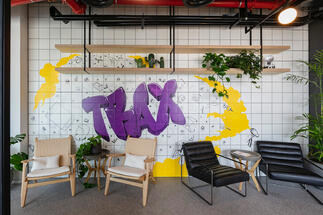 Employing more than 600 people, the tech company's employees are at the heart of its existence, and the Hungarian managers of Trax, founded in 2010, have sought and found the right environment for its outstanding team at Kálvin Square Office Building.
Trax, which will take possession of its new office in February 2023, will enjoy a full floor of more than 1,000 square metres of panoramic, category "A" office space. A company with offices in major cities around the world offers its clients a SaaSsolution that helps them maximise every aspect of sales by optimising their operations. Many of the world's top consumer packaged goods companies and retailers partner with Trax in over 70 countries.
ShareSpace, the world's first end-to-end office leasing platform that connects businesses with traditional and flexible operators, has been instrumental in establishing this long-term partnership by offering its customers real-time data search, 100% market coverage and transparent pricing.
"Our move is driven by continuous innovation, growth and unique conditions for our employees." – said Ofer Nahmani, Managing Director of Trax's Israeli division and Vice President of Operations at the tech company, who gave us a behind-the-scenes look. "Quality services, good access to transportation, location, proximity to universities and restaurants are important. All of our priority aspects have been met at the Kálvin Square Office Building. We help world-renowned brands and retailers design and implement their strategies to deliver a higher level of customer experience in a more cost-effective way, so it was important that the features of our new Hungarian headquarters matched the quality represented by our services and partners."
"We are very happy that this transaction was conducted through our platform." - said Noemi Cieplinska, ShareSpace's Business Development Manager. "It is important to us that our clients can find the solution that best meets their needs among our wide range of services. The Kálvin Square Office Building is one of the best located buildings in Budapest, offering outstanding services, and it is a pleasure that a technology company looking for such quality has found a home there."
"First of all, I would like to thank ShareSpace for providing the background to this deal and Mr. Ofer Nahmani for concluding the contract fast and smooth." - said Dóra Papp-Vas, Leasing Director at ConvergenCE, expressing her gratitude. "It is always a great honour and positive feedback for us when a dynamic, innovative international company considers that the conditions we provide are the most ideal for their working environment. Trax's solutions and services have been used by many global brands for more than a decade and I am very confident that our client-friendly business policy is a good basis for this agreement to mark the initial steps of our long-term cooperation."
ConvergenCE