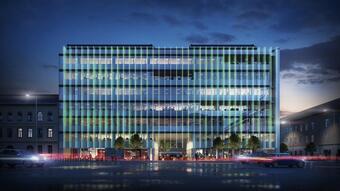 CBRE has conducted one of the most extensive and detailed global research projects which surveyed 13,000 Millennials aged between 22 and 29 across 12 countries to understand how they approach lifestyle choices through live, work, and play and what this means for future trends in real estate.
Millennials are the first generation to be true digital natives. This immediate access to any part of the online world has driven an increased belief that immediate gratification is something to achieve in all aspects of life. Almost half of the respondents want to be able to have a desired product immediately and they want to be able to see, touch, feel, test, and try out the product in store. When the 'Millennial shopper' does buy online they want the items delivered to their own home. A significant two thirds of people said they preferred home delivery, followed by delivery to place of work while 'click and collect', lingered as a third option. Leisure is also an increasingly important part of a Millennial's life and 50% of their income goes on eating out, shopping, visiting the cinema, and going to live events.
The findings from the report also reveal that this generation of young adults are facing significant challenges in finding affordable places to live. This is largely attributed to the high cost of residential property and rents coupled with a lack of suitable jobs. Nearly half (49%) of all respondents surveyed, still live at home with their parents and 74% say that wages are not keeping up with property prices, which is one of the main reasons that they are still living with family. A total of 65% cited the reason they rent instead of buying a property due to financial circumstances.
The survey also looked at what Millennials want from a job. A total of 64% of Millennials consider themselves fortunate to have a job and that working for a small number of companies during their career is something that they aspire to. However the level of loyalty to a company is ranked low and workers will move jobs if the right salary, learning and development and opportunity to work with similar minded people arises. According to the CBRE research, 78% of respondents see the quality of the workplace as a key factor when choosing an employer. While salary and benefits remain the main draw when considering a job, when money is removed from the equation, work/life balance stands out along with other factors such as better office environments. In fact, 69% of respondents said that they would be willing to give up other benefits for a better office environment, underlining the increasing pressure on developers and landlords to create the optimum work environment for attracting and retaining top talent.

CBRE