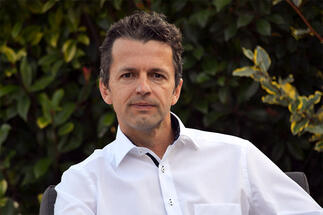 - The coronavirus has raised serious concerns amongst employers: how will they avoid or at least slow the pace of employees getting infected and ill in large numbers. What is the essence of the Invensol solution?
- The epidemic requires quick and effective actions from everyone. Companies of the private sector cannot afford to lose their competitiveness, nor is it an option to lose their employees even temporarily. Although, raising the awareness of hygiene standards has been communicated on every possible platform, most companies worked towards sending their people to "home office" as soon as possible. However, there are some organizations, where personal attendance is a must – for example in the form of on-call duty. So, for them the biggest challenge remains to protect the health of their employees who continue to visit the office. To answer your question precisely: Invensol SAM has introduced two new features against the pandemic: One of them focuses on prevention, helping to keep the distance in offices by limiting the booking of office desks to keep a minimum distance between workers' seats, e.g. it only allows you to book every second desk. All of this can be done by rotating the available / non-bookable desks daily, so each desk would have 40 hours without anyone occupying it. The other feature is useful when the problem has already occurred, and it turns out that one of the employees has caught the virus. Based on the bookings, the system monitors who, where, and for how long has occupied a place in each office, thus it is easy to keep track of which employees sat close to each other for a longer period. If a person is found to be ill, a summarized list of names can be retrieved from the system, showing who could have become infected by what chance, based on their desks' distance. Of course, we cannot perfectly filter out each affected person, as you can also get infected by anyone in the elevator, and this cannot be registered by our system. But it immediately provides a steady starting point for dealing with the situation.
- Many pop into the office just for a few hours, others don't work at their usual place, not to mention those workplaces where there are no dedicated desks and everyone has the flexibility to use the available office spaces, meeting rooms and collaboration rooms. Can this kind of flexible work method also be tracked?
- The answer is definitely yes! In addition to booking a table, SAM users can indicate for each working day if they are working from the office or their home, or whether they are on a business trip, sick leave or on holiday. This also supports the work of managers and team leaders, as they can easily keep track of who is available from a specific group that day. With the "Colleague Finder" feature, employees can also check where their co-workers are sitting and where they are working from. The system is cloud-based, so it is constantly available to users.
- As far as I know, SAM was launched years ago. Obviously, back then, no one even heard of the coronavirus. By the way, what does SAM stand for?
- The answer is: Space and Asset Management, and indeed, with our cloud-based service, we have been on the market since 2014 and are proud to have won the Proptech Solution of the Year award in 2018. It is a modular service and its main elements are as follows: desk, meeting and parking booking, asset manager, fleet manager, maintenance ticket reporting, organizational management support module, as well as reports analyzing the operational activities. In the past few years, we have worked for and obtained references at many Hungarian offices and SSC centers of large international companies: leading companies of the oil, pharmaceutical, spirit drinks and automotive industry also trust SAM. I would like to emphasize that we do not offer canned solutions. After a personal online consultation, we offer a chance to get an insight into the SAM application, and we also compile customized software packages.
- Speaking of modular structure, what should those do who have been using SAM for a long time? Is it enough for them to "enable" the new module?
- This is not really a new module; it is rather an addition to the existing SAM Booking module. All our existing customers have received the new feature automatically and free of charge during a system update back in spring, which is now part of the basic module. This is how we contribute to the fight against the epidemic.
- Have you received any user feedbacks yet? What are the initial experiences?
- The new features have quickly become extremely popular amongst our customers, and the feedback has also been absolutely positive. Almost all our customers have started using the anti-epidemic features of the system immediately. In the summer, the new SAM feature supporting social distancing played a crucial part in the reopening of offices, and our customers are very grateful for this quick help.
- How can user data collected by the SAM application be reconciled with the GDPR specifications?
- SAM is fully GDPR compliant. It only stores data needed for the operation of the system, and it only stores them for as long as they are necessary. GDPR considerations have been discussed with all our customers' privacy officers, and the system's automatic data erasure features have been set up accordingly.
Click on the image to open gallery
More info: https://invensolsam.com/
Irodakereso.info