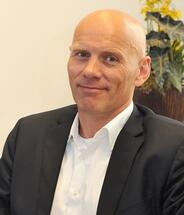 - Your inaugural speech seemed rather optimistic. Is there any reason for it?
- It's not simple optimism, but also a solid business idea built on market analysis. If you compare empty spaces by quality to ours, you simply cannot make any other choice. 

- That's a pretty strong statement. Would you please explain this?
- If you can get for 100 Euros a three-star and a five-star hotel room, which one would you choose? If someone is looking for offices for 4 Euros, we will not be able to compete, but in the case of small and medium-sized enterprises working in a proper business sector, there is no alternative to the prices we offer in the area.

- Budaörs was a very thriving submarket in the office segment two decades ago, but since that there has been no significant development here. What do you expect?
- During the years of the crisis local rents have not fallen as much as in the downtown of Pest. Budaörs rather have remained stable. Now it is still cheaper to rent an office here, but if a company's total staff commutes daily from downtown to Budaörs, the advantage of cheaper office lease melts quickly. This is a different market. We expect companies, searching for quality offices next to highways, easily accessible, yet not far from Budapest.

- You recently offer 1,100 square meters on four levels, even for tenants with a single workstation.  What do you think about the potential of the serviced offices in greater Budapest area?
- Currently we serve at Anker, R70 (operated by Property Systems too) and Budaörs a total of five hundred workstations. Last year's figure was 300, next year is expected to grow up to 1000, and within a few years we are going to serve five thousand people working in our offices. There is a great potential in this business segment. We have 1,100 square meters office spaces at Budaörs, but we are ready to open the next block – depending on the needs of our tenants. We grow together step by step.

- You also mentioned that tenants can move in with a single laptop. What do you mean exactly?
- We have ready-to-move-in offices with furniture, internet, central reception, and everything else, needed for immediate work. And we have two more office floors, which will be designed and finished by the wishes of the future tenants.

- Is not especially unique.
- There is an important difference to our competitors: you have to pay only for the services that are really important and you decided to take. Therefore we call our Budaörs offices "low-calorie" business center. We are transparent and flexible, offering not ready to wear, but tailor-made products at a competitive price. We used to say that tenants do not even have to take money, just an idea of their future environment.

- How is leasing going?
- Particularly well, we recently negotiate with 30 different companies.



Officerentinfo.hu