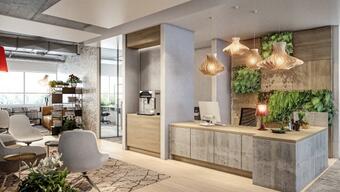 - The last summer when we talked, you mentioned about myhive Haller Gardens that this is not a simple facelift, but a particularly large-scale renovation. Where is the process now?
- We are continuously making progress with our renovations: the conference room has already been handed over, the lobby, café, parking level, common areas and facade will soon be renovated. One of our most important innovations has already been completed, as we have created a spectacular showroom. Here we can present to our current and future tenants how we envision the office of the future. Anyone can check it out, try it out, imagine their own office in it, and even if they like the concept, they can rent the area. They want flexibility, which is understandable: in such a rapidly changing environment, they can't figure it out how many of their employees will come to work here next year.
- It can be 10, or may be 100 which also means that tenants' need for an office can change every few months. How can this be adapted?
- We talk to our tenants on a regular basis and is clearly outlined if a given company now have 20 employees, and then a larger project comes in, which requires an extra 50 people, they will need more space. After the project, there are thirty people stays at the company. We are ready to meet such and similar needs. IMMOFINANZ offers its existing and new tenants complete flexibility in terms of office size and rental duration, as well as the required myhive service package.
- In the Hungarian market, it is quite rare for some company to start such a comprehensive renovation without having any rental problems. Are you running forward?
- We are moving forward. In the summer of 2016, we started thinking about the myhive concept, which debuted in five of our office buildings. Encouraged by the success in 2019, we started to expand our services even before the pandemic, because we saw the trend for more flexibility early on. The pandemic just speeded up the demand for our flexible office concept.
- How much has the concept changed since the beginning?
- Our concept doesn't change, it develops and adapts to current and future needs and trends of the market. I would highlight that myhive is not simply a design concept, although we are truly unique in interior design. But it is much more than that, it is a "home away from home". We offer flexible lease terms, flexible space solutions, a concierge service that will organize everything from shoe repair or clothes cleaning and we offer a vivid community that allows tenants to network and connect with each other. For this matter we have a community manager that will organize yoga classes after-work events of childcare offers. With our latest myhive updates we offer now four basic products that all enjoy the services we just mentioned. With this broad offer we believe myhive is a space where start-ups can meet Corporates and network for common interests.
- How did you feel the effects of Covid? How did your tenants react?
- We did everything we could to make our tenants feel safe; we spend a lot on disinfectants, preventive and more frequent cleaning, masks, plexiglass at the receptions and many other things. Our tenants reacted differently to the virus situation: there are those who work invariably at full capacity here, for example, in myhive Haller Gardens, and there are those who have almost completely switched to home office. In the retail sector, STOP SHOP was very popular among shoppers, as there are no common areas, shoppers can enter the store directly from the street.
- Aren't you afraid that the home office will be so successful that the tenants won't even want to come back?
- Flexible working and the home office will be in greater demand. Nevertheless, home office will never completely replace the office workstation, taking into account the personal interaction that has to be created in a team which is crucial for innovation and productivity in companies. As home office continues people and companies seem to realize the value of social interaction at work as well as the benefits it has for the company spirit - a creative job is unimaginable without inspiring conversations, personal contacts or spontaneous kitchen talks. But we do believe working will be approached more flexible in future and we are prepared for this need.
- The vacancy rate is slowly going up from 6.5 percent, although it is true that it has not yet reached 10 percent.
- A good product will always have its own market. We believe with the right offer we will meet the right amount of demand and we can see it already with the rising interest in our new flexible myhive offers.
- Do you consider myhive Haller Gardens to be a premium category?
- Absolutely. Not only because of the great location and infrastructure. When we put together the new myhive concept, we had dynamic and vibrant communities in mind, working in an efficient environment. I think our concept is unique in the market and so far there is no other office in Budapest where such a versatile service package is offered on such flexible terms. Tenants can rent an office even for a month or a desk for a day. The myhive team provides ongoing support - even through our mobile app - so tenants can focus on their work.
- What does the application know?
- The myhive app is an important platform and tool for communicating with our tenants. We've been working a lot in the recent months to make it even more user-friendly. We also recently upgraded the app, our goal is to be able to use it for many more functions. With a few clicks, our tenants can indicate what kind of meeting room, conference room, extra guest parking lot they need. You will also be able to sign up for yoga classes, various events and many other myhive services here.
To open gallery please click on the image
Irodakereso.info