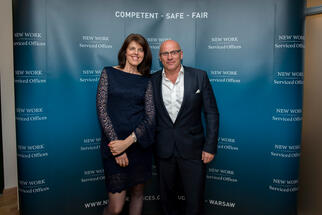 - You said in your inauguration speech, if you can't grow, you will die.

- Sooner or later, yes. If you are suggesting that we have targeted the market leader position, well, you understand the point, but our plan does not end in itself. The point is not that we could raise our 35% current market share at any price above 50%, but to provide answers to the tenants' needs. The existing centers were developed for different profile companies in different places, in and around Budapest.

- A100 is on Andrássy Avenue. Why are we here, and why not let's say on Váci Road office corridor?

- Andrássy is a prestige boulevard, with long history and patina. There are many people looking for this atmosphere, lifestyle, and they can afford it as well. A100 was not designed for those who would like to place as many work stations as you can; rather representation and elegance are expected. Business consultants, lawyers like the historic building and neighbourhood, and it seems that nearby Citypark is also an important angle for them when choosing an office.

- The protected monument facade is truly impressive, but where can I park my car? Many guests came by bike for the opening ceremony due to lack of parking lots.

- I think they came by bicycle, because it is very close to downtown, the accessibility of A100 is quite good. We also have a garage under the building; you can enter it from Aradi street. Following a full scale refurbishment of the building in 1999, a new wing was constructed; this is the Aradi street wing. The classical and modern parts are linked at all levels; and there is an attractive double-level high atrium topped with a glass-roof.

- How large is the A100?

- It is 1700 m2 on two levels. The first contracts have been signed; some more are in the tube. We start operation in A100 New Work Office Center on 1st of April, and it is as successful as we are planning to open an additional center on Andrássy Avenue, a little closer to the Octogon.

- How much is the investment value for A100?

- € 350 000,--.

- What are your short term plans?

- You have just mentioned the Váci Road. Well, since over 25 per cent of the Budapest office market is concentrated there, so we also feel that it is a must to represent ourselves there. We are going to open a center in the downtown area, just like in Budaörs and in the District 11., characterized by strong demand too. We open 3-5 new centers until the end of 2017. We are constantly expanding New Work's product range in the way that 3-5 headcount start-ups remain important for us, but the same time our concept known as corporate corners gets in a new phase. We are hosting the European Investment bank and currently negotiating a US bank with 100 local employees, just like a Dutch logistics company with 80 people. They all going to have our high level service environment.

- Quite ambitious plans.

- I prefer to say dynamic. These are not just plans, proven by the fact that we provided office solutions for 80 people in 2013, which number is increasing quite fast: it jumped into 1.200 for this March and growing forward;. In the future we think about inventing Business Hubs with concentrated service areas. The space for a single Hub can be up to 5.000 sqm.

- Is this right that you are planning to open a New Work center abroad? You have outgrown Budapest?

- Budapest remains a strategic location and headquarter for us. However we have discussed about Warsaw, Prague, Kiev, Vienna and Milan as potential expansion sites. One of these cities will be part of our network by the end of the year.

Irodakereso.info