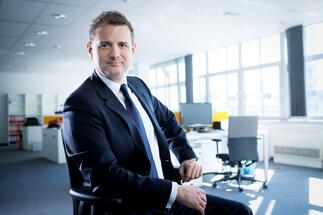 When we last had a chat in autumn 2008 we were celebrating the laying of the foundation stone of a business park, and now you are receiving me in an elegant downtown office as the managing director of another business. What has happened in the meantime?

- We obtained the building permit for the mainly logistical project in Páty and then the crisis broke. Europolis, where I was managing director at the time, decided to stop speculative developments. Events have since confirmed that we were right: not only have investors, tenants and entrepreneurship weakened and lost momentum, the general outlook also remains pessimistic. Investors of fully greenfield projects would be running a huge risk given that existing warehouses can be rented at a fraction of the rent charged before. Still, in January 2011 CA IMMO took over the asset management division of Europolis with all of its employees, and I embarked on a project to realise an old dream, or shall I say a long-term strategic plan.

- More specifically?

- I felt that I was at a crossroads: I had to decide whether to carry on as an employee or to start my own business. I decided on the latter, partly because I had once promised myself that I one day would put to the test the knowledge and experience I had gathered in the more than fifteen years I had spent in the property market.

- And has setting up a business in the middle of the crisis proved to be a good decision?

- Definitely! No corporate jobs in today's Hungarian market could compete with the excitement, opportunities and professional challenges offered by CE LAND, the only such asset management company in the market. And we did not know in 2011 that the end of the tunnel was still far off.

- I have to ask at this point, what exactly does the term "asset management" on your business card mean? In the financial sector it refers to the management of financial assets.

- It means more at CE Land, and mainly property utilisation. We do not function as an agency and we do not market our own properties; we provide a service called third-party asset management. In other words, we manage as efficiently as possible the assets of owners who trust us with their properties. To sum it up in one sentence, we identify the highest and best use of each property according to its stage in its life cycle and realise it.

- Is this new in Hungary?

- We do not have a lot of competition and, as the above has revealed, even the concept of asset management is not quite clear in Hungary. In the real estate sector of a healthy and developed economy real estate investments are dealt with by professional companies from planning to utilisation to reporting and implementation. Owners do not necessarily have to understand this business. They want a firm strategy and a predictable use most optimal for the property, which we deliver.

- At what size can you achieve economies of scale in this service?

- In our case a client should have real estate assets worth at least one billion forints so that we can dedicate an expert to their portfolio, which can comprise more than a single office building.

- Who is your biggest client?

- In terms of volume it is the Austrian Volksbank Group, which is an association of the Austrian provincial Volksbanks – not to be confused with Volksbank International, whose Hungarian subsidiary was recently acquired by the Russian Sberbank.

- What did they entrust CE Land with?

- We manage their Hungarian real estate investments according to their strategic goals. We are preparing all the buildings for sale – this is the medium-term goal. Our short-term goal is to lease them – the higher the occupancy rate of a building, the easier it will be to sell. The market is sceptical and strict, all alternatives are scrutinised carefully and if something does not fully hit the mark tenants will pick on it and drive the price down. However, we are not under pressure as our client does not wish to pull out at all costs. Volksbank is not a typical client in that they know exactly what they want and they have instructed us to carry out their wishes. The flagship building of their portfolio is Kálvin Center, an iconic building in Budapest.

- What else does the portfolio comprise?

- For example Duna Office Center in Váci út 37. This is a first generation office building in its third life cycle, which was a bit unloved when we took it over. We have been repositioning it since spring, reintroducing it to the market and filling it with tenants. We have a bespoke strategy and marketing for each of the buildings we manage: Kálvin Center does not need explaining, it virtually sells itself, while Baross utca 52, which is only a few hundred metres away and part of the same portfolio, requires a completely different approach. The Dexagon Office Building in Fehérvári út is yet another story. And this is where our job actually starts: we need to find the highest and best uses and the best tenants. We can rely on a number of tools in our work but our results can be monitored month by month: existing valuations are compared against future prospects and the strategic goals of the client while we keep an eye on the cash-flow.

- And how do you get this all done?

- We do not follow the textbook; rather, we use guerrilla methods. Do not forget that Hungary's entire market is no more bigger in size than that of a large West European city. So we strive for speed and efficiency using a kind of off-market approach.

- Who else do you work for?

- Most of our potential clients come from the corporate world where we have contacts but I am sure that we will soon have some private investors and clients from the public sector as well. In addition to Volksbank we also work for the Austrian Falkensteiner development group, which instructed us to sell some of their properties in Zadar, Croatia and Katschberg, Austria (the apartment complexes Punta Skala and Edelweiss respectively) to investors in Hungary. Furthermore, we are responsible for repositioning and leasing out part of DEPO in Törökbálint on behalf of the international real estate investment group Valad. We also count the Israeli Shikun & Binui real estate development company among our clients, and we have good relationships with Hungarian banks with substantial property portfolios.

- Do investors tend to consult you prior to purchasing a property?

- Ideally they should but what usually happens is that a portfolio "evolves" somehow, and we then have to manage it.

- In what condition are Hungarian commercial properties in general?

- The market is undercapitalised, i.e. there is a shortage of capital and accordingly the stock is literally eroding. I could compare it to the contents of a wardrobe that has seen better days. For many years the items in it were regularly replaced: a lovely pair of shoes here, a few high quality shirts or a good suit there. Then the crisis broke and we can only work with the items that are left. Some of the properties are still holding up well, while others ought to be demolished.

- So investors must be careful, even though they can buy properties at good prices because of the crisis?

- The rules of thumb explained in text books do not always apply! The life expectancy of an office building can be anything from forty to a hundred years. The buildings completed around the fall of communism are already halfway through their life. Of course this is just a rough average: some of these buildings are still regarded as class A, such as Bank Center, while others ought to be demolished. I expect that in the near future we will see more office buildings being demolished in Budapest than cranes indicating new construction.

- So these office buildings have already reached the end of their lives, even though they are only a few decades old?

- Yes, and in every respect: both the quality of the materials used and their image are such that their owners would be better off to demolish them sooner rather than later.

- Are there many such buildings?

- I am an architect but even architects are not always right. However, my answer is yes. And we can also help our clients with this issue: four of my eight colleagues are in senior status, i.e. they have 10-15 years of experience. We have seen so many different kinds of projects and buildings that we can also judge whether they are sustainable, i.e. whether there will be room for them in the market in ten or fifteen years, not only how much they are worth at the moment.

- Hardly any tower cranes can be seen in the city right now. Do you think office construction may get a boost any time soon?

- The next five years could still be quite depressing; the market would improve even if the vacancy rate, which is currently over 20%, dropped to 10%. Of course there are projects under construction in Budapest for which companies have signed pre-lets, but this is not a contradiction; quality tenants do not want to wear "worn items" from the wardrobe, even if there are hundreds of thousands of square metres of vacant office space on offer, as they prefer to rent new bespoke premises. Any self-respecting business is aware that their office is not just a piece of data in an Excel sheet but part of their image so they need to be very careful as to what to rent and where. As part of their branding exercise many multinational companies seek some sort of niche property, and we can also advise them with this.


Officerentinfo.hu/irodakereso.info