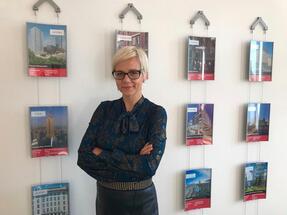 We talked about the growing number of sublease options and she also says that Those parties (both landlords and tenants), who handle to other one as a partner under these circumstances, try to understand, co-operate, think on a long-term basis will be the ones, who loses the least and even might profit from the difficulties.
- What trends are likely to occur in the office market? Obviously the Covid question cannot be avoided…
- Despite to a strong end in 2019, the Budapest office market is inevitably showing effects reflecting economic restrictions caused by the COVID-19 pandemic in 2020. The total leasing activity decreased, as we experienced a significantly lower number of transactions. Before March last year, the 2020 trends on office market truly showed landlord-favoured characteristics: supply was healthy, headline rents were increasing, yields reached historic positive levels. However, let's not forget the cyclical changes of the real estate market, though this time were not economic ones, but a pandemic hit the world. Needless to say, the past 12 months was a challenging period on the office market. Most of the market players expected minor corrections, which might have been true, but it is obvious for all of us by now, that it is not a short-term change we face. As the previous crisis touched all of the segments of the real estate market deeply, due to COVID, there are different processes on the given segments of the real estate markets. We saw how hospitality and retail were affected almost immediately and deeply by the pandemic but a bit later, office market has also realized its own challenges. Home-office, which in several cases were simply inconceivable previously, were sorted out from one day to another, and most of the occupiers have managed to sort it out actually very successfully.
- What do you think, the home office victory march continues?
- We believe working from home, as well as other types of flexible working, such as staggered hours and working closer to home will continue to form a part of our working lives in 2021. While this partly comes down to our ongoing efforts to contain the pandemic, it's also a consequence of our newfound focus on flexibility as a whole. We're beginning to see the extent to which different people, roles and tasks require different parameters for optimal performance. Though dull, drab and cubicle-clad offices have been a thing of the past for some time, we're likely to see an increased focus on the office experience in 2021. The office won't be what it's always been. Workplace strategies will feature a flight to quality, a focus on design and an emphasis on collaboration – especially as we try to rebuild our depleted levels of social capital. The office will be a destination that provides experience, connection and choice – with insta-worthy cafés, curated meet-ups that instil a sense of community and belonging, biophilic office design that boosts wellbeing, agile working strategies that encourage mobility and technology that streamlines workflows.
- What about the vacancy rate? It rises slowly but steadily, doesn't it?
- The office vacancy rate has increased to 9.1% and there is considerable number of sublease options on the market. The lowest vacancy rate of 4.3% was measured in the North Buda submarket, whereas the Periphery still has the highest vacancy rate of 29.3%. We can see that the COVID-19 pandemic has brought new trends to the Budapest office market, the most significant of which, is the increasing number of sublease options coming to the market. Several companies decided to downsize their office space due to home office, adding approximately 2-3% to the vacancy rate, while the average size of deals has decreased. We also experienced a drop in the headline rents, but mostly on the already existing buildings, while several new developments are not able to reduce headline rent to the same level. Landlord contribution has been also increased and contractual terms became more flexible again.
We are expecting almost 175,000 sq m stock-increase until the end of 2021, depending on how the economy will react to the changes triggered by the COVID-19 pandemic. Renegotiations and more flexible landlord-terms are expected as a result of the economic changes prompted by the pandemic. Tenants are keen to introduce risk-minimising measures, which – with an effective strategy and experienced advisor – might bring early savings. Several businesses carried out extensive researches to examine the possibilities of working from home permanently, which will undoubtedly change the office market further. Despite, the aforementioned recently improving trend, the Hungarian office market is well positioned for a recovery in office leasing.
- What is your opinion about sub-lease?
- We believe that sublease might be a good solution for certain companies, for the short term, however for the long term a 1-2 year sublease will not solve the oversize issue of the tenants. Sublease, if it is carefully prepared, available minimum for 3 years might be in some cases tempting for other tenants. In the meantime, there are still new developments available, still existing office buildings available on the market and this quantity of sublease that is on the market today might be the least favourable option for some tenants. Also, there are several advantages, which only landlords can offer – these advantages have to be compensated on some way by the sub-lessors. So, while in some specific cases, it is really useful to have sublease as an option, it will not be a successful story for all sub-lessors.
- How did the tenants need change in the last year?
- Uncertainty and unpredictability might made occupiers postpone certain decisions, as far as they can. Due to the successful transformation of home-office, occupiers' target is still increasing efficiency and reducing costs. We are aware that flexibility in the new workplace is key, each industry and individual office will adopt its own transformation in this sense. Office space will continue to be crucial; businesses still want a central hub. Undeniably, despite our newfound acceptance of remote working, there is a growing need for businesses to provide office space for their employees to develop their skills, collaborate and learn from one another. The 'death of the office' narrative that murmured through 2020 wasn't silenced by academic rhetoric; it was silenced by people sincerely missing their office environments – and everything that came with them. Calm working environment is certainly more difficult, where entire families forced to stay at home, while the younger generation suffers from isolation and lack of social interaction. These challenges modify tenant requirements, but not necessarily in size. We do see tenants that are ready to decrease the size of their offices and the concept of the fit-out of the remaining part of the working environment has been also changed.
- What would you advise a tenant in the recent situation? And what for an office-building operator?
- We usually suggest to our tenants to define targets together. Workspace-solution support might help a lot to analyse the options and find the most ideal solution. We believe that this unpredictability will remain for a while; therefore our teams do their best to negotiate flexible contractual terms, in order to be able to answer changing market conditions during the lease period.
If we learn just one thing from the previous crises, then it is that it's better to keep tenants, than loose them and try to anchor another one. Those parties (and I mean both landlords and tenants), who handle to other one as a partner under these circumstances, try to understand, co-operate, think on a long-term basis will be the ones, who loses the least and even might profit from the difficulties.
- If I understand you well, there is no uniform method, only individual solutions.
- We are here to help build the workplace solution strategy for each office space. There is no one-size-fits-all, as I mentioned earlier, each situation and demand is unique and decisions must be based on key factors analysing short, medium and long term scenarios.
- Vaccination and mass immunization are within reach. Are the good old days coming back? Is the market reorganizing?
- It's even a better question if we want the good old days back or embrace the new reality, learn and develop into something even greater. New times come with new success for those who can adapt to changes. Yes, there are challenging times, yes, we might have to work more or work in a different way, but this also comes with many opportunities.
- What are your plans in the Hungarian and international markets for 2021?
- 2020 was a very good business year for us, both on office and investment transactions. We have managed to build a great team and we plan to continue this in 2021, as the human element plays a crucial role to our organization. This year is not just the anniversary of 125 years of Knight Frank, but also a year with high goals and we are confident in achieving them, taking into consideration the almost three successful months that have already passed.
Irodakereso.info