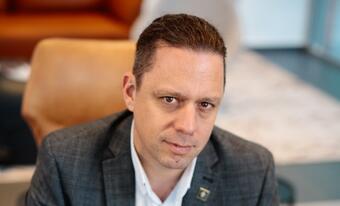 – Some say that we are two minutes before midnight, means the office market boom will end in a short time, and others say that the market is still developing for a long time. Which opinion do you share?
– We have very good economic growth figures and as a consequence we also have seen additional completions in the office segment. I think that the things are all right now in the local real estate market, but of course a cycle cannot last forever. Nevertheless, we are very good prepared for any market situation: In the last years we have invested in the quality and service range of our buildings, have rolled out our new office brand myhive and have increased the occupancy rate within our Hungarian standing investments to up to approx. 95%.
– Here in your vicinity about 100,000 sqm is under construction or has just recently completed. After a rough calculation, this requires 10,000 new jobs.
– Yes, and it seems that come to fruition as the demand side is also expanding and we have a sound economic environment.
– What about the demand? Are rebinding dominating, the demands are expanding by the new entrants or are the existing tenants expanding?
– Many companies step up a new level when combining their scattered, different quality offices into a state-of-the-art office building and in many cases they continue to expand. I see SSCs growing, and there are still new entrants in this market. However, as mentioned due to our broad service range and our investments in the quality of the buildings we have not only won new tenants but also see a high percentage of our existing tenants renewing their contracts with us.
– How the tenants respond to rent increases? An office market expert thinks it is time to accept the 20-euro rent near the Váci Road. Will they pay this amount?
– This is up to the respective landlords and tenants. In general, from a tenant's perspective it is always worth trying to renegotiate existing terms instead of moving into a new location.
– Sure, but why would the property owner do bargains when in the current situation they dictate the market?
– I would not describe the current market as a landlord's market. Additionally, we regard our tenants as partners and as guests like in a hotel. It is our task to know if he is satisfied or not. And if he is not satisfied than we have to do our best in order to improve this. We have an average of 95% occupancy level in our offices, which means that our most important task is keeping the tenant's satisfaction at a high level and we are happy to achieve this.
– Is this the concept of 'myhive' is about? It started with a great impulse, and then it seemed the noise is subsided recently.
– On the contrary! After having rolled out the myhive brand to five of our office properties in Budapest including for example the modernisation of lobbies and the introduction of exclusive tenant lounges we are constantly working on the hospitality and community management for our tenants. The essence of 'myhive' is the community building and the introduction of various services and maintain their high quality. The task of our community manager is to identify and answer to tenants' needs in the different office buildings. In some places, it has resulted the creation of a baby-sitting service, some other places the events are emphasized where tenants can meet in a pleasant environment and in other offices, the healthcare and sport are the priorities. More than forty people entered the upcoming Spar marathon from the Haller Garden. Flower ordering, buying a theatre ticket, cleaning the office - making easier the everyday life of the tenants in the office – these are almost basic services. We have developed a myhive application that facilitates direct communication between tenants, they can organize events through the app, and get up to date information about the available events, and moreover it also helps to our tenants to optimize office usage. Many have indicated that they need a temporary extra office space for a few months, and we can handle it flexibly, and it is better to rent a meeting room occasionally than construct a permanent meeting room which will be empty most of the time. Moreover, since we are an international company, our tenants can use these services in our foreign office buildings at a reduced rate. So the myhive lives and doing fine; we have a lot of ideas and the concept becomes more and more sophisticated in the hands of tenants.
– How conscious are the tenants when these benefits need to be quantified?
– Not only the numbers are interesting, but the human relationships as well: myhive makes the lives of the tenants easier; they meet regularly, there is a need for it and seems to work. This is the most important. We are constantly testing the tenant's needs so we do not stop. It is also important for our tenants to enter the market as an attractive employer thanks to myhive because they can add such extras – we can call it added value – for their employees, which is almost unique, and this is more important in the current tight labour market. Work-life balance is not just a slogan; it is a plannable weekdays with a few clicks.
– Are you planning an acquisition or a sale?
Hungary is one of core markets of IMMOFINANZ counting for more than 12% of the overall property portfolio. We are focusing on the asset classes retail and office and will continue, as a long-term investor in Hungary, to invest in our properties to keep them up to the highest standards in the business. Of course, we are constantly evaluating possible acquisitions. The expansion and maintain of our high quality services are on our agenda for now. Last year we purchased two retail parks that we converted to STOP SHOPs.
I know that you are a big book fan. Who is your favourite author?
I know and love the whole oeuvre of Kurt Vonnegut, Ray Bradbury, Steven Saylor, Jo Nesbø, Stanisław Lem. They can energize me, but only if I can read the whole book at once, a few pages before I fall asleep does not work for me. During my holiday, I read a lot, and my family tolerates with patience that the father is somewhere in a parallel universe.