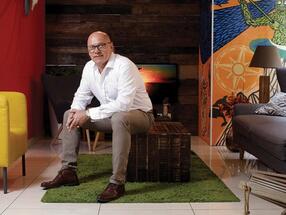 - Are you sure an economic downturn is coming?
- Unfortunately, a recession is inevitable, but hopefully, it will help us to slow down inflation in the next two or three years. The recessionary environment, fires up the demand for flexible office sector as the economic uncertainty requires frequent adjustments of business plans. On top comes the trend to hybrid work following the lockdowns. The twin effect creates a long-term tailwind for shared office space. According to JLL, its market share will grow significantly from 3 percent today to 25 or even 30 percent in the coming years.
- How has this changed your business model?
- Completely. We see 400 % growth from the corporate sector, this clients never considered flex as an option before. We started as a serviced office operator more than ten years ago offering solutions for SME´s. Covid forced us to rethink things and we started to shift our business model towards digital services and tools and brick-to-business consulting. Since then, we have moved from being a landlord to becoming a service provider. We create sustainable value for landlords and tenants. Last year we opened up the first single-tenant service centre in Sofia Bulgaria, which we not only planned, designed and executed according to clients but also we perform procurement services to support their operation. They care on their business while we care on their offices. 70% of our properties are operated based on management contracts or joint ventures with landlords. In 2020, we created Workcloud24, a digital marketplace for Space as a service and ESG initiatives, where landlords can choose from various digital solutions and tools. The platform is available throughout Europe.
- Can you give us a concrete example? Let's say I am the owner/operator of the office building. Why should I call you?
- Simple it´s because of money. Flexible serviced Space creates 25 % premium above market rent and as well much higher occupancy. Landlords typically lack knowledge of how to transform traditional office space for flexible operation, nor do they have the stuff to operate. They are also not part of a network and missing a brand and marketing and sales power. With the digital know-how of workcloud24 we help to implement tools like Space in the Cloud and support ESG initiatives by measuring performance indicators which lately is required by corporate tenants. Since 50 percent of the workforce wants to work in a hybrid way and employees don´t show up at the office five days a week this has led to a significant drop in demand for regular office space while the demand for products like Office in the Cloud is increasing. Today we sign up companies with 100 employees using core space for 40 people only. The rest is using a booking app and on the peak loading days when everybody is in the office, they are using hot desk and meeting facilities which we provide in the center environment. As a result, these clients save 50 % of their core budget while we participate from higher revenues because of the services we sell. Today, the office is about user experience and convenience, which we don't find when we work from home. We believe that 30 percent of office space will no longer be needed in the near future and that existing stock will need to be adapted to the new reality. That is why our know-how is needed.
- Meanwhile, investors are announcing new developments. What do they hope for?
- Offices that are not connected to public transport and do not comply with ESG standards will suffer, while modern, well-equipped premises will be in high demand. 90 percent of the existing office stock does not meet ESG standards, so there is a huge demand to renew these premises. I can give you a list of the Fortune 50 of various countries, and by analysing their space requirements; you can discover that they have all reduced their floor space commitments by 30-50 percent and if they move they move to ESG Compliant buildings which also offering Space as a Service or at least flex components.
- Is the flex market developed enough to meet future needs?
- I think not. On the one hand, there is a lack of supply to meet future demand, as I said; only 3 percent of the total stock is flex, whereas 25 percent would be needed. On the other hand, smaller operators and landlords which operate on their own are usually not prepared - they have no information on ESG compliance, no digital strategy and because of the lack of brand awareness and network, they will not make it up on the vendor list of big corporations. That's why we invented Workcloud24's marketplace, which offers tools and services for landlords and operators who want to benefit from a range of digital tools and services. Examples include a toolkit to help you transform traditional office space into flexible space, a digital office lease to enable multi-site bookings, a carbon calculator to reduce your carbon footprint, or access to property assessed clean energy (PACE) financing to improve the energy performance of your premises or building.
- Let's stay with ESG. Do you think it is inevitable?
- Corporate clients are already very sensitive to ESG compliance, as they are required to report to their shareholders. Smaller clients will follow suit. And the capital market is shifting completely towards sustainable investments. What people forget the entire EU Taxonomie only was invented to funnel money into sustainable investments. If an investment is not ESG compliant, it will no longer be marketable in 2025. That's what people don't want to hear, but banks will follow the CRAs' risk analysis and pass on the requirements to landlords. They will either not finance at all, or finance non-ESG assets at a significant risk premium. Nobody can afford not to do it. I give you an example, a solar panel on the roof would pay for itself in four years under the old energy prices, but already in two years under the new energy prices. In a very short time the investment will pay for itself and the rent can be increased because the user is willing to pay more because he saves on energy consumption. The entire ESG ecosystem is far more holistic but makes totally sense. This is the basis for worklcoud24's ESG assessment where we collect and analyse Data to change user behaviour and support Property Assessed Clean Energy Investments. The reports we issue are in line with article 8 and article 9 of the EU taxonomy and currently we are working on certifications which we can issue to show the stakeholders that the property is up and qualified for ESG.
- Do you think the recession will accelerate the changes you consider essential?
- Yes, in a recession there are always huge business opportunities. And along with the need for ESG compliance, the current recession should also trigger positive changes. For example, in the flexible office sector, two years ago, when an appraiser noticed that his portfolio included space leased to WeWork, he would have devalued that particular space. Today, if there is no flex office, they would ask why there is no flex operator, and if not, they would devalue. The same applies to PACE funding. Since energy is expensive, it allows such investments to be profitable. Because the assessment triggers the need to implement an ERP (Enterprise Resource Planning) system, it improves building efficiency and convinces management to adopt a more holistic approach to sales and service. What has changed completely in the last six months is that landlords are bringing us to the table and asking us how we would approach these issues. As we compare usage and energy consumption per square metre and per workstation within our portfolio and the peer group, we can see the average, the worst and the best peak. In targeting the best peak, we are saying that this should be achievable for all our properties, and to do that, we need to communicate with our landlords and ask them what their plan is for this. This kind of communication has not been the case for the last twelve years. We were operating buildings, but we did not know exactly what we were operating. We were consuming energy that was billed to us. Now we have to ask where the electricity comes from, what the carbon footprint is and how we can reduce our consumption. The fundamental change in the Office industry is that we have to think like a shopping centre manager. They make their profits by creating a save, clean and service focused environment. They even running marketing campaigns for their tenants. All actions and measures having only one target: to increase the turn over for the tenants. Each shopping mall in the world only exists because landlords are participating from the turnover from their tenants. None of these investments would exist only on the basis of the fixed rent tenants pay. It is creating a synergy environment driven by aligned interests. In the office sector we have to create an environment for tenants to save money in the leased space, but spend on additional services to increase occupancy. We need to stop thinking in terms of long-term leases with maximum guarantees and minimum incentives. We need to think of space as a service, with maximum flexibility.
- Our readers are used to seeing your interviews end with a quote. What is the message this time?
- Following the money - Charlie Munger once said, "Show me the incentive, I'll show you the outcome." He gets straight to the point regarding the behaviour of individuals (and companies), and as vice chairman of the hugely successful US investment firm Berkshire Hathaway, he is certainly someone who understands how this links to long-term financial gain. As long the main KPI is occupancy and not utilization or client retention and client satisfaction why should the management switch to Services and sustainability? As long bankers only lend on debt service cover ratio and valuations don´t include an ESG based stranded risk analysis why should a landlord invest in property assets clean energy improvements? As long tenants don´t demand ESG compliance and Space as a Service or asking questions because of energy bills and the source of energy no one will change the product proposition. As long brokers are incentivised by x time monthly rent why should they recommend a joint venture between a flex operator and a landlord? All this moving parts are more or less under development and as more they are incentivised as faster we overcome the resilience to change for the better. We live in a digital world, everybody is used to the benefits of shared economy and subscription services, yet the industry is still stuck in the last century in this respect. ESG compliance and Space as a Service instead of Space as an Office may appear as transformation risk, but it also presents huge business opportunities.

Irodakereso.info