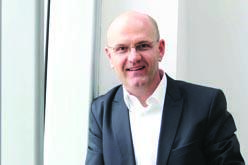 -    What kind of career have you had to become the chairman of BCCH and what are your plans for it in future?
-    I lived in Australia for eight years; I came back because I thought my consulting expertise could be put to good use and improved further in Europe. I worked in Hungary for five years, getting involved with BCCH and becoming a board member, before moving to the Netherlands for a few years.  When I returned I accepted Vodafone's offer to put a team of ten together to transform business at the company. We wanted to achieve results in two key areas; to improve the efficiency of customer-oriented tasks to provide better service to our customers, and to make cross-functional processes simpler and more transparent so that our back-office teams can work better. I got involved with BCCH again, and when Gergely Mikola stepped down as chairman, he asked me to take over. I and my ideas got the most votes so I could embark on the implementation of my programme, unofficially called BCCH 2.0.

-    What is the essence of BCCH 2.0?
-    We would like to reposition BCCH and change the way its role is perceived. Our goal is to provide both information and services to our members. For example, we have a monthly event called CEO Dinner where we invite an industry executive such as the CEO of the Danubius Hotels Group or Vodafone to talk about the situation of their industry and development and investment opportunities. Recently we launched a mentoring programme where volunteer executives work for 6-9 months one-on-one with young managers to pass on their practical knowledge and experiences - this is already very popular. This knowledge transfer is a key element of the reinvention of BCCH: our goal is to create a link between the knowledge accumulated at large corporations and the ambitions of small businesses, in areas such as product development, HR, the use of social media or entry into foreign markets.

-    Is this last one not more relevant to large corporations, though?
-    On the contrary! One of our themed conferences is aimed at Hungarian start-up businesses; we would like to raise awareness of Great Britain, which is a much larger market than Hungary and is full of opportunities even for start-ups. In successful EU states small and medium-sized enterprises form the backbone of the national economy.

-    How active are British SMEs?
-    BCCH and the British Embassy set up an initiative called British Business Centre this spring, which is meant to act as a catalyst for a new chapter in economic cooperation between the two countries. We would like to double the number of British SMEs operating in Central and Eastern Europe by 2020. These companies are active but in this region they have fallen a little behind German and Austrian businesses, which were quicker to recognise the opportunities that exist in CEE. We offer a wide range of services to British companies interested in the region, including finding Hungarian partners for them.

-    Buyers?
That as well – obviously they would like to sell their products, but often would like to extend cooperation much further. Feedback has been very good to date: these businesses have a pragmatic approach and put business first, so we have every reason to hope that we can soon report concrete results and investments. British companies are used to high quality business services and expect to get them in Hungary as  well. This is why we decided to enter into an agreement with irodakereso.info: we want to gain a greater insight into the office market and obtain more accurate information. Knowledge of this segment of the economy, prices, trends and the plans and intentions of its key players can be shared with our members and British companies setting up business in Hungary.

-    What do British companies look for when renting office premises?
-    BCCH has 110 members varying in size and representing about twenty sectors of the economy, but so far I have not come across any requirements that Hungarian service providers could not meet, be about services or size. In my former position I worked with several British businesses that wanted to set up shared service centres in Budapest, and lack of adequate office space was never the issue.
-    Most foreign businesses coming into Hungary have no local knowledge, although all British businessmen are aware that Budapest is one of the most beautiful cities in the world and that rents are a fraction of those in London.

-    Do they not find it odd that a modern office market seems to exist almost exclusively in the capital?
-    I don't think this is an issue as British companies are also flexible: for example, Doherty Industries, a family-owned business, relocated to Orosháza and are so happy there that they recently built a 2,000 sq m production hall. I could also mention Mátészalka where Specsavers established Szatmár Optika, Pécs where the Hungarian subsidiary of British American Tobacco operates or Debrecen where British Telecom chose to set up its regional operations centre (BT) and where BCCH recently opened an InfoPoint.

-    The British Business Centre decided to rent office space in Eiffel Palace, one of Budapest's most prestigious office buildings. Why?
-    We chose these offices, comprising 100 sq m on the sixth floor of Eiffel Palace, together with the British Ambassador, Jonathan Knott. We both believe in the old adage, "You never get a second chance to create a first impression", so we wanted attractive premises that make potential investors feel that they will receive high quality service and will be well looked after. They can even work there or use the meeting room. The first-class infrastructure and the wide range of services we offer, including those provided by irodakereso.info, are intended to facilitate good business deals. I am sure that within a year all our partners will understand what BCCH 2.0 is about: we help to create value by finding business partners, transferring knowledge and information and providing mentoring.  We will hold a series of events that demonstrate to businesses large and small that the British-Hungarian relationship continues to offer opportunities.
Irodakereso.info/ Officereninfo.hu