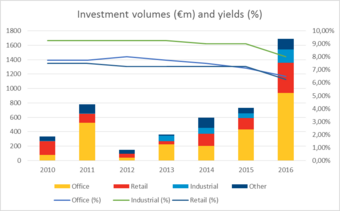 Hungarian investors still remained dominant in 2016 with a share of 37% of the total activity by volume. The country's attractiveness was reinforced by its sovereign debt's upgrade to investment in 2016 allowing a larger scale of international investors to target Hungarian investments.
The average size of individual deals were also on the rise, reaching EUR 25 million in 2016, whereas EUR 15 million in the year before. The increase in demand is also noticeable in the declining prime yields by 0.5-1.0% in each segments compared to the previous year. The typical prime office yield at the end of 2016 stood at 6.5%, while prime retail (shopping centre) yields were at 6.25% and prime industrial/logistics traded at 8.25%.

2017 is expected to remain as active as 2016 with a larger number of portfolio deals and value-add opportunities than before, coupled with further yield compression and rental increase in all asset classes. New market entrants are foreseen to be US and UK private equity, South-African listed and private companies, German fund managers and various Austrian buyers. The biggest net buyers were German institutions acquiring assets for EUR 130 mln more than they exited from in the previous year.
According to Bence Vécsey, Director, Head of Investment Services at Colliers International Hungary, 2016 was a pivotal year in the Hungarian investment arena following a gradual improvement in sentiment materialising in major transactions. The return of core international buyers to the domestic market together with the increasing volume of acquisitions by domestic funds put Hungary back on the European investment map.

Colliers International had an exceptional year advising our clients on 6 transactions, including key developers and investors on the sale of Park Atrium, Nordic Light and Rhenus logistics, among others.
Colliers