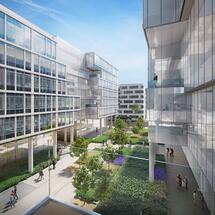 NN Biztosító Zrt., as part of NN, has been offering high-quality life and supplementary insurance services in Hungary since 1991. The NN Group is a global insurance and investment services company with a strong, predominantly European presence in 18 countries. The products of NN are offered worldwide through regional centres in several countries across Europe, the United States and Asia. With more than 14,000 employees, the group delivers high-quality service and products to its 17 million clients.
'We decided that now was the time to transfer our headquarter in a category 'A+' building, providing green technology, which offers a significant progress in quality' says Imre Sztanó, Chairman and CEO of NN Biztosító Zrt. 'Váci Greens 'F' is an ideal choice for us because it represents the highest and state-of-the-art standards, it guarantees flexible, bright and liveable spaces for the efficient work of our associates and for an agile functioning of our company'.
'It was crucial for us that our colleagues should work in an easily accessible place where they can make good use of the services in the vicinity and a high standard technical content is guaranteed. All of these contribute to the well-being of our colleagues' adds Krisztián Pásti, Director of Operations of NN Biztosító.
Developed by Atenor, the green and ergonomic Váci Greens megaproject offers exclusive offices on 130,000 square meters. The office campus consists of six buildings, surrounding a huge internal garden and passage, a so-called 'piazza', creating a unique and inspiring environment. The office complex, while satisfying the needs and demands of today's tenants and of future generations, provides home for several market leading companies.
Váci Greens is located on the popular Váci Corridor, in Budapest's number one business district. It is situated less than 3 minutes' walk to Duna Plaza Shopping Center and Gyöngyösi Street metro station. Given the top location, the highest quality technical content, the multitude and diversity of in-house services, Váci Greens is pioneer in the office market of Budapest.
'We are very pleased that a significant, globally recognized company placed its confidence in Váci Greens again, which strengthens us in that our vocation and dedication to our stringent principles – that Atenor develops at the topmost level and in the most sustainable way – are not in vain'.
'The first four buildings of Váci Greens, consisting of nearly 80,000 m2, function with a 100% occupancy rate. Buildings E and F are already under construction and offering an additional 50,000 m2. Váci Greens' tenant mix is going to expand soon and is going to be more diverse and more colourful' said Nikolett Püschl, the Development & Leasing Manager of Atenor.
During the transaction, Atenor was represented by Cushman & Wakefield.
Atenor