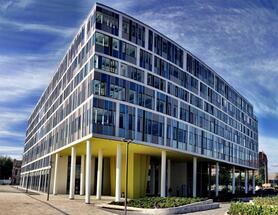 Building C will be completed in July 2015 and will extend to circa 18,200 sq m over the ground floor and six upper levels. Immediately upon completion, General Electric Healthcare plans to occupy circa 6,500 sq m of office space over the top floors and will also include a laboratory element on the ground floor.

GE Healthcare is a global provider of transformational medical technologies and services aimed at helping to deliver patient care to people around the world. The company provides medical imaging and information technologies, medical diagnostics, patient monitoring systems, drug discovery, biopharmaceutical manufacturing technologies and performance solutions services and currently employs over 46,000 people globally. In addition to its regional sales and service centre for Central Europe, GE Healthcare built a world-class software hub in Budapest focusing on advanced imaging software; healthcare analytics tools; and Industrial Internet platform.

The construction of Building C started at the end of 2013 in the wake of the success of Building A (15,900 sq m), which was fully leased only 6 months after completion (to tenants such as Sykes, Enterprise Communicators and GE Corporate). In parallel, Atenor have also started construction of Building B which will be completed November 2015 and is already enjoying strong interest. On completion Building B will extend to circa 23,000 sq m. This means that by the end of 2015 Vaci Greens will extend to circa 58,000 sq m of Grade A office space.

The key features of the Váci Greens concept – large, efficient, floor plates with state-of-the-art technology, green credentials (BREEAM ''Excellent''), a low service charge, easy access and large green areas – offer tenants a ''gold standard'' occupational solution in the Budapest office market.

Zoltán Borbély, Project Director at Atenor said: ''We are absolutely delighted to welcome GE Healthcare at Building C and greatly look forward to them taking occupation of the property. Building C will be able to provide GE Healthcare with the ''best in class'' office building which will provide them with the perfect occupational solution for their long-term commitment to Budapest.''

Lajos Reich, Chief Technology Officer at GE Healthcare and Managing Director at GE Hungary added: ''When looking for a new location it needed to be the highest quality and well located in order to retain and attract the very best talents as we build a global software center. Our aim is to build an inspiring work environment in a scaled agile layout that unleashes creativity. From these perspectives Vaci Greens offered us an excellent fit and we are looking forward to re-locating there next summer.''

David M Johnston Associate, Head of Office Agency at C&W in Budapest commented on the deal: ''In the prevailing market this is a significant transaction and one that clearly reinforces the need for large occupiers to look well in advance of their natural lease expiry in order to secure the best occupational solution in the future. Owing to Vaci Greens quality and flexibility it continues to attract serious interest from large occupiers such as GE Healthcare and we are confident of disposing the further areas in the short-term to excellent covenants such as GE Healthcare.''


The total Váci Greens office complex will consist of all together 5 buildings reaching a total of 100,000 sq m GLA. On completion it will be Budapest's biggest office development project. Atenor Group is financing the construction from its own capital. The scheme was the first project in Budapest that was given the BREEAM 'Excellent' certification in 2011. It is located on the M3 metro line in between Forgách street and Gyöngyösi Street in the core catchment of Duna Plaza shopping centre. The building offers office space on 6 floors and 3 parking levels. Váci corridor is recently the most sought after business location on the Budapest office market.
Cushman