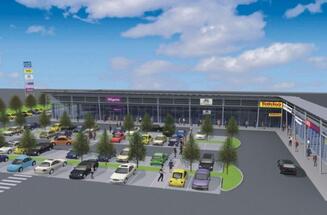 With the lack of new countryside retail developments, existing schemes are becoming more appreciated both by occupiers and investors. As exclusive leasing agents of the Hungarian "Park Center" chain and "City Market" (previously Buy-Way) retail warehouses we get a complex view of this segment. We experience that retailers are more interested in larger leasable areas, to promote their whole product range at one place and they see the importance of being present in all major retail hubs of the country.
Lyliet Meléndez, Associate at Cushman & Wakefield Budapest said: "After being advisers on the market for over 25 years we saw the evolution of the classic retail and the retail warehouse segment from the very beginning. The road was unpaved, but we saw good examples from international developers. The importance of having stores in town and setting up bigger units out of town was proven right and became a habit for retailers. We are happy to be involved in most of these transactions in Hungary both on the tenant's and the landlord's side."
With the opening of the 2,400 sq m Fitness5 in City Market Dunakeszi, this regional retail warehouse development is 100% leased. Another sportsclub, Victory fitness signed for 1,300 sq m in Park Center Nagykanizsa, Intersport on 1,036 sq m in Park Center Siófok and Sportisimo on 922 sq m in Park Center Mosonmagyaróvár.
Sinsay, a fashion retailer has also decided to join the Retail Warehouse format and signed a lease for a 972 sq m store in Zone Bevásárlópark, opening in spring 2020 where Cushman & Wakefield represented the Landlord.
The opening of Galéria Center (4,500 sqm) in Mosonmagyaróvár with 100% occupancy and ideal tenant mix also confirms the strengthening of the sector.
Sándor Munkácsy, Senior Property Adviser at Cushman & Wakefield added: "The demand for investing in out of town retail portfolios has increased in the past years. Both local and international investors are looking at these assets and are likely to buy in to existing properties with long term leases. This was the situation recently in Nyíregyháza, where a close to 1,000 sq m Penny Market was sold to a local private investor and similar happened when Diófa sold a 6,000 sq m countryside retail portfolio to a local investor."
Cushman & Wakefield