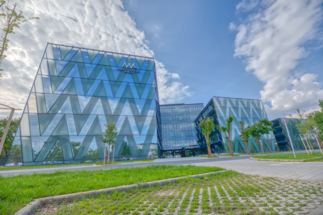 The move to the new office will provide an outstanding employee experience. It is also a sign of BT's long-term commitment to Hungary and local talent.
The new office space will reflect BT's "smart working" principles with a focus on collaboration and teamwork. The office will be equipped with the latest collaboration technology to support hybrid working among teams in the office and across BT's global network of operations.
"With this move, BT strengthens its position in Hungary as a strategic location for its critical services provided for customers. This announcement comes just months after the opening of our brand-new office in Budapest One. These investments further solidify our position as the employer of choice in Hungary and will provide for a nice backdrop as we celebrate the 15th anniversary of our service centre here," said Peter Győri, country host of BT in Hungary.
"BT's 15 years presence in Debrecen is a success story for every stakeholder. Besides the continuously growing headcount, the new positions represent new areas and higher added value, which is a clear sign of the company's commitment towards Debrecen. Moreover, as a founding member of Debrecen BSC Roundtable, BT contributes to forming the future of the sector," stressed László Papp, Mayor of Debrecen.
"We are proud that, following their HQ in Budapest, we have had the opportunity to represent BT in Debrecen as well. I believe BT's aspirations to improve the work environment of their employees along with transitioning into the hybrid working trends, and the outstanding attributes of Forest Offices in Debrecen is a perfect match," added Miklós Ecsődi, Head of Occupier Services at Colliers Hungary.
Owned by real estate investor and developer GTC Group, Forest Offices Debrecen is an A category office building with an extravagant and recognizable image, high-end technical specification, meeting BT standards. The unique complex offers, among others: intelligent building control system, organic plant walls, bright interiors, green rooftop, bicycle storage and changing rooms with showers. Alongside with our Better Workplace Strategy, the BT area will be set up with brand new office equipment, from furniture to devices and tools, and even include relax & refuel areas to charge your batteries during worktime.
"We are excited to welcome BT as our newest tenant in Debrecen's Forest Offices. BT's decision confirms our efforts to attract those best-in-class companies that share our vision of sustainable and future-proof workspaces. As the corporate world is embracing new ways of working, we believe that adaptive workspaces combined with top-notch technical solutions and relax & refuel spaces in Forest, provide a perfect hub for companies such as BT," commented Csilla Vattay, Head of Leasing at GTC Hungary.
To further support employee wellbeing and recreation, the office building is in a green area, right at the famous city park Great Forest that offers numerous outdoor activities as worktime is over.
Colliers