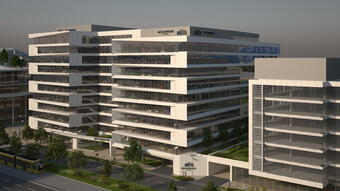 Millennium Gardens will be the last new office building in the South-Pest bank of the Danube, near the Millennium Towers also built by TriGranit, the Palace of Arts and the National Theater.
The Millennium Gardens is a true gem of the Budapest office market where unique architecture and a large green park and stunning river view awaits future tenants.
"We were pleased that the developer decided to appoint the CBRE team as the exclusive leasing agency. Having the largest office leasing team on the market - consisting of six skilled experts -, last year we have managed to support our clients with significant lease transactions. Our new mandate with TriGranit is an excellent proof of our strategy: "Working on first grade projects, with the best developers, open to our global experience and capable of accommodating our quality clientele. TriGranit - with the construction of the Millennium Towers has already proved that they can meet customers' needs 2-3 years in advance, as those were also built-to-suit buildings and tenants (including KH Bank, Morgan Stanley, Vodafone, Duna Medical) have all been very pleased with their offices ever since, thus the Millennium Gardens will also be a perfect choice for companies with high demands" – said Judit Varga MRICS, Head of Office Agency at CBRE.
"TriGranit continues to see a great opportunity in the Budapest office market, which is why we started developing the Millennium Gardens. South-Pest has only a few new offices available, so this development can almost be regarded as a niche. We are confident that we are about to start a successful and fruitful cooperation with CBRE, the same as before – said Sarolta Csikós, Head of Office Leasing at TriGranit.
While designing the building TriGranit has used architecture ensuring sustainability. The automated shading, the heating and cooling ceiling systems and the raised flooring are part of the intelligent building's management system designed by the Finta Studio. TriGranit has been planning all its office buildings, including the Millennium Gardens to suit the needs of all the tenants, and to offer employee-friendly architecture: roof top gardens and a water pool and garden on the ground floor. The building has 463 bicycle-storages, changing rooms equipped with a shower and accessible restrooms as well as 600 parking spaces. Beside the two spacious foyers and walking area on the ground floor there are also retail spaces for lease and a restaurant seating 400 people.
CBRE has been TriGranit's partner since 2006 when the Millennium Towers office buildings' leasing began.

CBRE