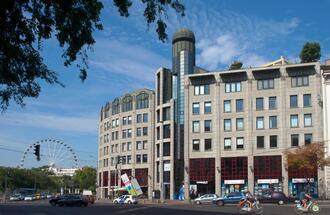 Continuous development – increasing demand

Several office buildings operated by S IMMO Hungary have been fully renovated over the past couple of years, minor engineering and interior design works are still underway in some of the facilities. The external and internal refurbishment of the buildings enhanced attraction: many of them have an occupancy rate of over 95%, and demand for available areas is also strong.

Beyond giving new appearance to many of the office buildings by renewing their façades, S IMMO Hungary carried out important technical upgrades in most of its properties. These works included, among others, the installation of new fan coil units, boilers and chillers, but in the case of River Estates, the entire HVAC-system has been replaced.

The redesign and reconstruction of common areas, e.g. receptions and lift lobbies was another significant element of modernization, as well as the new flooring and painting in the underground garages. New show offices were also fitted out in some of the buildings, further boosting leasing activity. The company's facilities have seen high demand, many of them operate with virtually no vacancy, while the overall occupancy rate over the portfolio stands at 80 %.

Beyond business: responsibility for the social environment

Maros Utca Business Center, in the direct proximity of Városmajor, houses Bátor Tábor for the second time this year. The foundation organizes therapeutic recreation camps for seriously ill children, and they recruit volunteers here. The company's social responsibility also includes supporting several other organizations helping children and families that struggle with difficulties.

The firm's relationship with the "Heart Without Frontiers Foundation" was established through its Austrian parent company: S IMMO AG. The organization works to create equal opportunities for disadvantaged, vulnerable as well as Roma children and young people.

Lea Foundation and Lea Home, both created to help young mothers in crisis, were among those to whom donations were sent, but help in cash or in kind is provided regularly to those in need. Last Christmas, S IMMO Hungary invited its partners to take part in its charity activity. The company launched a virtual game, in which the amount set aside for Christmas presents was distributed between the selected organizations according to the participants' recommendations.


S IMMO