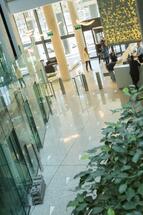 LAB5 architects – one of Budapest leading design firms - redefined the emblematic status of the building - constructed in 1995 - through a renovation project which brought space and light into the building. Thanks to the alterations and the use of glass surfaces, natural light shines through the interior. The most obvious change can be observed in the atrium: its clean, contemporary forms and stunning glass elevators offer an impressive visual experience to the building's visitors. These unique architectural solutions clearly differentiate the new EMKE amongst Budapest's modern office buildings.

The most visible elements of the atrium are three living trees, and several luscious islands of greenery, that bring the freshness of nature into the greyness of the city. András Dobos, managing director of LAB5 architects - the firm responsible for the design - explained that: "The basic concept meant the inclusion of green surfaces and organic elements to the interior instead of highlighting architectural details. These solutions create a pleasant atmosphere and inspiring working environment by evoking a forest -like ambiance."

During the transformation of the common areas - beyond the integration of nature – the real estate managers and the designers were focusing not only on elegance but principles of functionality. This approach resulted in a more efficient reception area by moving the desk into the middle of the space, and the creation of a nice quiet café, which is accessible from inside the building and from the street as well.

The renewal of the mechanical system was based on environmental awareness, sustainability and the tenant's convenience, so from now on EMKE is functioning not only as an ideal working environment, but also as an outstanding energy efficient office building.

Anita Hancz of AEW Europe - responsible for the asset management of EMKE Office building - summed up the goals of the renovation program as follows: " During its more than 15 years of service as an office building, this was the first occasion to implement major reconstructions in EMKE, but we were certain that the modifications of the interiors were well worth it. AEW Europe believes in long-term investments and wants the visitors to the building to experience a whole new world. We think that the changes and the nature integrated in the modern office building might help the rehabilitation of the entire neighborhood." The transformation of EMKE, Budapest's old-new office space, offers an opportunity for renewal not only to its current and future tenants, but for Blaha Lujza tér and its surroundings as well.


Source: LanceCom Ltd.