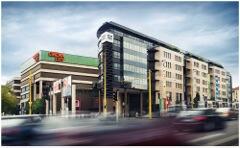 The West End Business Center's 28,000 m2 is now 97% leased, with new lease agreements signed on 4,400 m2 during the year. The tenant line-up was extended by such prominent tenants as Euromedic Group/Diagnoscan Magyarország, Trenkwalder and Yntergy. Avon has also chosen the iconic downtown building to showcase its new retail concept as well as Tower International which opened its first A.B.E. Offices in West End Business Center providing high quality serviced offices on a total of 1,300 m2. .Diageo and Ernst & Young both increased the size of its office space in 2013. The multiple award-winning, 10-year-old office complex is still in extremely high demand thanks to its technical solutions, excellent location and professional management.


Anita Hancz, Asset Manager at AEW Europe - responsible for the asset management of West End Business Center commented : "Over the past two years we have signed new contracts for nearly 20 % of the total surface of the assetas part of a carefully developed management strategy to focus on satisfying tenants needs. Thanks to the asset's outstanding facilities and applying the appropriate strategy, AEW Europe has achieved fantastic results in a very difficult market. "


MOM Park Shopping Center and Offices experienced similarly leasing activity, with new contracts signed on 2,600 m2 of office space in 2013. Portfolion Ltd., EconGas and Provital are the new tenants in the emblematic Buda-side building managed by AEW Europe. In addition, in the spring of 2014, Tower International will open its second, newest A.B.E. Offices center on nearly 1,000 m2. Current tenants Thales and Bonitas 2002 Ltd. extended their leases. Only 4,000 m2 office space is still available in MOM Park Shopping Center and Offices.
LanceCom Communications