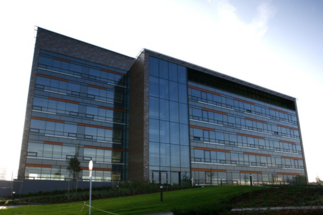 Erste Ingatlan Alap (Erste Real Estate Fund) acquired Market Central Ferihegy, a retail park with more than 44,000 square metres of area to let, as well as adjacent office complex Quadrum at the end of last year. The transaction facilitated for the company's real estate funds to meet the targeted ratio in property investments.
The sale of Market Central Ferihegy was assisted by CBRE on behalf of the seller. The deal represented a unique transaction, because the property, managed by Whitestar Real Estate, has never been sold since it was built.
Dominating in the area, Market Central Ferihegy is a retail facility rented out at a rate of 98 per cent to a diverse mix of tenants. The U-shaped property accommodates a Tesco hypermarket with an area of 15,435 square metres and a Praktiker hardware store as well as 1,550 ground-level parking spaces. Customers may park their cars in front of the stores, and since the stores are accessible through a roofed passageway, they are protected from the elements when they are entering the shops. The diverse tenant mix and the location mean revenues sustainable in the long term as well as a definite potential for higher rent.
Phase One of the office complex Quadrum was completed in 2008 with a total gross leasable area of 5,981 square metres and 238 underground parking spaces. Adjacent to the building, another 167 above-ground parking spots will be developed as part of Phase Two. The foundations for the underground parking garage and Phase Two of the office complex have already been completed in that plot.
"The acquisition of the retail shopping centre Market Central Ferihegy is considered a strategic milestone and is in line with our objective of adding decisive retail shopping centres to Erste Ingatlan Alap's real estate portfolio. The acquisition of Market Central ensures a steady income that is sustainable in the long run, serving the interests of our customers splendidly," said Balázs Pázmány, chairman of the Managing Board at Erste Asset Management. He reckons the demand for property investments remains robust in the current low interest environment. As the commercial sector is growing on the back of favourable outlooks of the Hungarian economy as well as low unemployment and rising wages, rent is likely to rise, delivering favourable outlooks regarding the returns to be had by real estate funds.
"CBRE are delighted to have advised the Vendors of Market Central Ferihegy & The Quadrum on the sale to Erste Fund. Market Central Ferihegy is the largest retail park in the country and this deal further highlights the investment appetite for core, institutional grade retail products, as the retail market across both Budapest and Hungary continues to flourish, underpinned by stable economic growth", Tim O'Sullivan Head of Capital Markets of CBRE Hungary noted.
Erste Ingatlan Alap