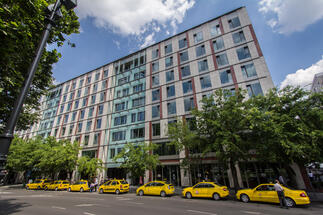 The CBD office buildings Bank Center and Roosevelt 7/8 – both belonging to the GLL Real Estate Partners Budapest portfolio -have reinforced the positive mood that characterizes the Hungarian real estate market in the past few months. Owing to its three new tenants specialized in the field of financial, business and management consultancy services and in the IT sector along with a lease expansion of a tenant operating in the field of banking and insurance, Roosevelt 7/8 has exceeded 92% occupancy, which is well above the average rate in Budapest.
 
 
A leading, international news provider has just completed their extraordinary fit-out in Roosevelt 7/8
According to Bence Balázs, Asset Manager of  Munich-based GLL, growing demand can be observed for premium office services. Based on his experience, excellent location, good accessibility and the comforts provided by a well-designed environment are becoming important for more and more tenants, who are even willing to pay – up to a certain point – a price premium. The occupancy levels of the prime office buildings managed by  GLL are above the average leasing rates of Budapest, even at prime rental levels. At present both Roosevelt 7/8 and Bank Center are operating above  92% occupancy rates.

Roosevelt 7/8 is ideally located in the Central Business District of the Hungarian capital, offering excellent visibility to its tenants. The building is mainly accommodating offices, and  offers high quality services  and energy efficient technical solutions. In a more and more competitive business environment, it is crucial to find the most efficient and creative ways to satisfy the needs and demands of tenants. Along with continuous investments and first class property management services, Roosevelt 7/8 implemented a loyalty program last year to further enrich its service range.

Within the framework of this unique initiative tenants benefit from discounted prices at more than 50 restaurants, coffee shops, fitness centers and other service providers in the CBD area. To be able to better respond to client needs, , Roosevelt's market research team carried out a survey in May, which proved that Roosevelt cardholders welcome the exclusive program and more and more people take advantage of the special offers. The management of the office building has gained helpful information and relevant remarks from the tenants, that will all be taken into consideration when further expanding the loyalty program, and increasing the  types of services available outside the building.

More information about the program:
http://www.roosevelt-budapest.com/nc/news/
Pro-Ducatio