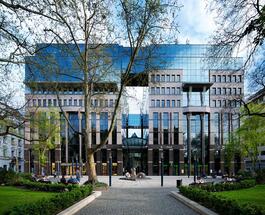 EUCham and Hays Hungary occupy their new headquarters in the downtown office building in September, the latter moving from Eiffel Tér Offices. The new deals cover altogether 568 sqm of office space.

The satisfaction with Bank Center by its tenants is proven by the fact that three companies have renewed their lease contracts. Besides Proinvest Kereskedelmi és Befektetési Kft. and European Licensing Magyarország Kft, Finalyse Budapest Kft. has even leased more space. PSI-CRO Magyarország Kft. signed a contract for more office space while having a valid lease contract. These transactions cover 1020sqm altogether.

The premium office building had an exciting summer; together with the new leases the signed office transactions cover all together 1588 sqm.
The occupancy rate of Bank Center is 88%, which is an outstanding rate at the Budapest office market, where the average modern office occupancy rate is 80%. This means that Bank Center has leased over 10,400 sqm in the last 12 months which is considerable more than its market share in downtown Budapest.

As to the management of Bank Center, one of the reasons for this popularity is that following Western European trends they are pairing the premium environment of the financial district with green technology. A large-scale technical equipment upgrade has just been completed in Q1 2013 and the building is about to receive BREEAM certificate for environment-friendly solutions. As a result of the upgrade, energy costs were reduced by 15-20% and since 2009 overall the service charges fell by more than 20%. "We offer a special combination of an exclusive location and energy-effectiveness, this how we are able to reach an occupancy rate above the Budapest average" says Anett Éles, Leasing Manager of Bank Center.
.
The Center has 62 tenants in total including the new partners the majority of which are multinational financial service providers and government agencies. The list of new tenants over the last 12 months includes reputable companies such as the Hungarian Chamber of Commerce and Industry, Four Seasons Dental Clinic, Magyar Éremkibocsátó Intézet or Booking.com, amongst others.
.
The office building is asset managed by GLL Real Estate Partners, with leasing and property management activities run by Avestus Real Estate.
Zempleni Communication