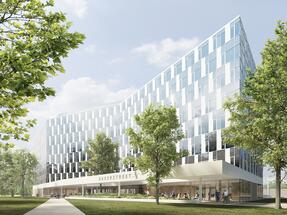 ATENOR, the Belgian developer of Budapest's largest office parks, purchased the 5,711 m2 plot at 18 Hengermalom Road in July 2019. Having now received the final building permit, construction works will begin shortly. At the beginning of 2021, ATENOR also signed an agreement for the purchase of the adjacent plot of 8,326 m2 under 20 Hengermalom Road, on which another "A +" category office building with 24,500 m2 leasable area will be built as Phase II of BakerStreet.
Both buildings of BakerStreet are developed to meet the requirements of the BREEAM "Excellent" green certification. In addition to environmental awareness, accessibility also plays an important role, which is guaranteed by the Access4You "Gold" rating for all people with special needs. Well-being and comfort are also at the heart of ATENOR preoccupations. The first 8-floor building will provide a 4-level underground garage, terraces, ground floor services, an interior garden functioning as a community space and a pedestrian zone. All these amenities will improve the quality of life for employees and residents in the area.
BakerStreet is situated in South Buda which is one of the most popular parts of the city, due to the closeness of universities, its easy accessibility and the huge amount of green area. The location is also close to M1, M7 motorways. This submarket is continuously developing and growing. The new Metro line 4, a new tram and bus network and the growing number of services like shopping centres, restaurants, cafés, sports- and recreational facilities also contribute to increasing the attractiveness of the district.
This new site is only 300 meters from Újbuda Shopping Center, and 600 meters from the Danube, moreover it enjoys easy access by public transport and by car. Thanks to the closeness of Rákóczi Bridge, both, the downtown and the southern Pest districts can be reached in quite a short time.
The development fits in perfectly with ATENOR's international strategy to develop iconic and highly sustainable projects in the dynamic cities where it is present – which now covers 10 European countries.
ATENOR's Hungarian portfolio is currently 326,000 m2, which includes 4 office projects (Váci Greens, Aréna Business Campus, RoseVille and BakerStreet) and a new residential project (also located in District XI, in the area of Lake City).
ATENOR