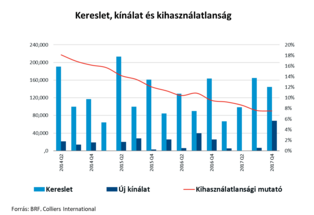 Rental growth in the Class B market is expected to be more moderate, driven both by Hungarian firms entering the institutional market and multinational firms seeking lower cost office options, according to Colliers International's latest, mid-year office market report.
The market has been in a growth phase since 2012, which has accelerated markedly since 2014. The best evidence is the gradually decreasing vacancy rate which stood at 21% in 2012 and decreased to 7,5% by the end of 2017. The vacancy rate remained stable during the first half of 2018 and was 7.6% on June 30, 2018.
Finding 1,000 sq m + units of quality office space in core locations has become increasingly challenging since early 2017. This problem will continue to be unabated through 2019 despite the number of new projects expected to be delivered through the end of the decade due to the preleasing activity. At the end of 2018 H1, more than 60% of the pipeline under construction was already pre-leased.
The average headline rent level in prime locations increased during first half of 2018 and it is approximately 5% higher than it was at the end of 2017 H1. The market is expected to remain landlord driven until at least 2020 unless there is a major change in the Hungarian economy.
"Due to the increasing new supply, 2018 H1 was the first period in more than 7 years, when the vacancy rate did not decrease further. Older buildings vacated by large tenants have been able to lease up their space at stable or mildly increasing rents due to the tightness of the market. We forecast that rising construction costs and low vacancy rates will lead to further rental growth in case demand remains strong. As a result, in the case of new developments with good, but not CBD location, such as the Váci út Corridor until Árpád híd and the Central Pest submarket, the average headline rent level will likely reach EUR 15-16/sq m/month." – said Michael Smithing, Director of Landlord Agency at Colliers International.

Source: Colliers International