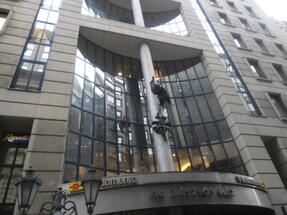 The Zászlós Office Building was leased by Colliers to Fundamenta for use as their headquarters building more than a decade ago. The building was designed by legendary Hungarian architect Finta József, and is currently owned by the Hungarian subsidiary of the German Müller Group. Located in the middle of Váci utca, it offers 7 000 sq m GLA on 8 floors and has an underground garage accessed from Petőfi Sándor utca.
Built to encourage Hungary's opening to the West in the mid-1980's the building has a unique location which is as sought after today as it was when the building was originally designed and constructed. The exceptional technical specification has likewise stood the test of time and is comparable with many Budapest office buildings completed within the past five years. The Zászlós Office Building provides an ideal solution for both large companies seeking a flagship headquarters in Downtown Budapest and for medium sized firms occupying a minimum of 1,000 m2. The Zászlós Office Building is the perfect workplace for Generation Y employees, who thrive in the city-centre with its comfortable accessibility and busy cultural and social life.
The Zászlós Office Building is within easy walking distance of 3 metro lines and many other forms of public transportation, and can be conveniently accessed by both bicycle and car. An abundance of restaurants, coffee shops, theatres and other services are located just steps away from the building, while the bank of the Danube is just a 2 minutes' walk.
"In today's office market it is very rare to find a 7 000 sq m block of available office space suitable for both single-tenant and multi-tenant use. We put Fundamenta in this one-of-a-kind building back in 1999, and believe that this unique property with its prime location and exceptional services will be an attractive solution for companies looking for office space from 3-4000 sq m which require an optional area for future expansion.– said Michael Smithing, Director of Landlord Agency at Colliers International.

Source: Colliers International