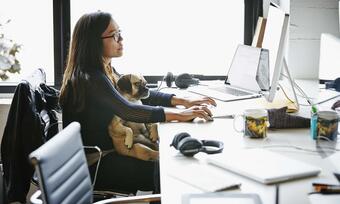 It common knowledge that in the last few decades the place and role of pets in our lives has shifted from hobby animals to valued family members. Many dog owners actually spend more on healthcare services for their pets than for themselves! No wonder that such an esteemed member of the family is also one that they wish to take with them on holidays and trips, malls and restaurants. A request more and more service providers are ready to oblige. But the biggest challenge is, what to do with your pet, while you are at work?
The ideal solution would be taking your dog with you to work. This, however, is an option rarely available for employees in Hungary.
Thus, the initiative to adopt a dog-friendly policy at Infopark Buildings I, B and C – property of the German real-estate investor HGA Capital – can justly be called pioneering. As of January this year, dog owners are officially allowed to let their dogs accompany them to said buildings.
"It has always been important to us not just to live up to our tenants' expectations and meet their requirements, but to anticipate their needs in advance and take proactive action. Therefore, we are proud to be amongst the first ones to ensure the possibly for our tenants at Infopark to become dog-friendly workplaces, should they wish to do so". -related Katalin Honi, head of property management at Strabag PFS the property manager of the aforementioned buildings.
It is becoming an increasingly dominant trend on the labour market for employers to lay more and more emphasis on their employee's physical and mental well-being as a tool to retain their workforce. Good quality air, plenty of light and a comfortable and practical office outfitting has become the bare minimum. So an employer who is truly looking out for his employees has to go beyond providing the ideal working environment and make sure that people can truly relax and recharge when they take a break. This obviously contributes not only to their wellbeing, but it also has a favourable impact on their working relationships, improves their ability to cope with stress and increases their capacity for work.
"Infopark with its great green areas, quiet, landscaped parks and fresh air has always been a perfect venue to provide an environment for relaxation, but we wanted to offer even more. We are well aware that the company of animals has a beneficial effect on people, so much so that it is widely used for therapeutic purposes. That is why we decided to amend our house rules and policies to enable our tenants to become dog-friendly workplaces if they choose to do so." - added Katalin Honi.
"Since we were new to this, to help us work out the details we relied on the expertise and experience of the members of kutyabarát.hu (dogfriendly.hu) who were kind enough to provide us with plenty of useful information and advice". – tells us Norbert Hajdu the property manager in charge of implementing the program. "On their webpage pet lovers can find -among many other useful things -this infographic summarising the code of conduct and essential requirements for dog owners to coexist harmoniously with others at a work environment."
HGA Capital