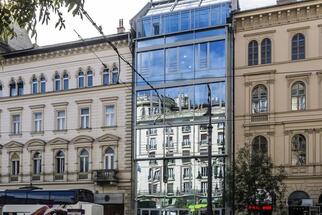 The building is situated at Astoria, an emblematic part of downtown Budapest, at the junction of Kossuth Lajos Street and Károly Boulevard in District 5. The plot was occupied till the early 1980's by a small retail unit of S-Modell, then later turned into the post-modern headquarters of the state-owned Hungarian Art Gallery. In 2006 the asset was completely refurbished and became a modern office building comprising ca. 1,400 sq m Grade "A" office space and retail on the ground floor and 6 upper levels. Due to the asset's excellent location, easy accessibility and flexibility, K6 operates with 100% occupancy and reversionary rental uplift potential.
Benjamin Perez-Ellischewitz, Head of Capital Markets, JLL Hungary, commented: "Office buildings situated in the CBD are extremely sought-after by investors, but supply is very limited in this segment of the market. Therefore, we managed to identify the Purchaser, a Hong Kong private investment fund partnering with Wigan Acquisitions, very quickly."
Patrick Wigan, Managing Director of Wigan Acquisitions, added: "Following the successful acquisition of Austria House in early 2018, we've now grown our portfolio with the addition of the K6 office and retail building with Skyscanner and Utazom as tenants. This further supports our co-investment strategy targeting prime city centre office and retail buildings with relatively high yields, sustainable income and long term capital appreciation."

JLL