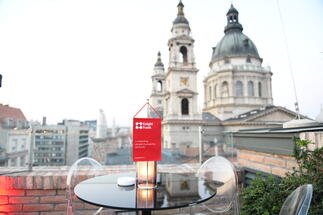 The opening of the office comes as an organic move to the global property consultancy, in line with the growing market in Budapest and the surrounding regions. Budapest currently has a stock of 3.4 million sq. m of class A & B & owner occupied office space with a further 1 million sq. m of class A office space predicted by 2020.
The office building is well situated in CBD next to the Danube River, with fantastic exposure to a historic area of the city, right near the Chain Bridge. The business will cover the full spectrum of commercial property services, specialising in offices, capital markets, project management, land advisory services and valuations.
The Budapest office will foster close collaborations with all the offices in the region and the growing Knight Frank global network.
Chris Bell, Managing Director of Europe at Knight Frank commented: "We are delighted to officially become Knight Frank Budapest, and look forward to expanding our presence and success in the local real estate market, along with an exceptional team with outstanding professional results. We are confident the Knight Frank brand will continue to flourish in Budapest."
Erika Loska, Head of Office Division Knight Frank Budapest added: "The opening of Knight Frank Budapest represents an exciting expansion of the network, allowing us unrivalled coverage of this important market. I'm thrilled to be joining Knight Frank Budapest and confident that the team's passion for the property market, together with the organization and strength of the existing Knight Frank network, will enable us to advise and support our clients."
Knight Frank