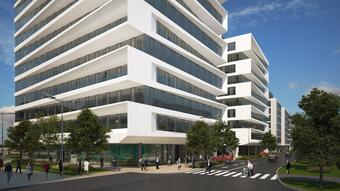 The building developed by TriGranit and funded by Revetas Capital, is one of the most representative office projects on the Hungarian market and an exemplary showcase of ESG development practices. Phase I of this office gem on the banks of the Danube offers 21,600 square metres GLA to its tenants.
The first phase of Millennium Gardens office project in Budapest has opened its doors. The office building is the final element of the two-time FIABCI award-winner Millennium City Center project in Budapest, developed by TriGranit. The total leasable area of the, first, north tower is 21,600 square metres, including 18,210 square meters of net office space, 450 sqm of retail space as well as green areas on the ground floor and the rooftop overseeing the Danube. The 9-floor building, offering a unique panorama of the Danube, was designed by FINTA Studio
Millennium Gardens, having been built during the COVID-19 pandemic, is opening with above 90% occupancy of the first phase, a unique accomplishment even under normal market circumstances. Henkel, the first tenant of the office complex has already moved in, other blue-chip tenants include Fressnapf, Provident, MSD Pharma, bimGroup, HVAC and InsularTech.
Millennium Gardens is the first phase of the ESG and 2040 Carbon Neutrality strategy of Revetas Capital. During the construction, innovative solutions were applied to reduce emissions and energy consumption during operation, as well as environmentally friendly materials used for the building. Contractors working for Millennium Gardens were also selected based on compliance with HSE requirements, and all activities on site were closely monitored and reported on the corresponding CO2 emissions. The building was also planned in accordance with BREEAM 'Excellent' and Access4You 'Gold' certifications.
'It's always a pleasure to open a new office building, but Millennium Gardens is unparalleled for us, as this building is the final element of Millennium City Center. The opening of Millennium Gardens especially in these turbulent times is an outstanding accomplishment from the TriGranit team! I would like to thank Revetas Capital, pan-European real estate investment advisor, for their trust and support in developing this wonderful building. As the next step, we work intensive to continue Phase II of Millennium Gardens.' – said Tom Lisiecki, CEO of TriGranit.
Eric Assimakopoulos, Founding Partner at Revetas Capital, declares: "ESG matters become an integral part of the firm's DNA in line with our commitment to carbon neutrality by 2040. Millennium Gardens is an exemplary showcase of responsible building standards and reducing the environmental negative impact across our portfolio of assets. We are pleased to see this project come to life and delivering on our promise to our tenants, investors and to the community, especially during this challenging economic context."
The 9-floor office building has a green garden on the ground floor, a unique roof terrace with a fantastic panoramic view over the Danube River, which both can serve as an alternative workspace and meeting point, as well as a recreational area for employees. On the ground floor, a 300-seat premium restaurant will serve the needs of employees from the upper floors and nearby offices. The restaurant, which has a summer terrace, is an excellent choice for after-work dinners or even pre-theatre drinks.
The Millennium Gardens office building – as the final element of Millennium City Center – completes TriGranit's vision of a 'city within a city' project. This 'city within a city' project contains numerous cultural institutions, offices, residential buildings, a green park, and a 1.5 km long promenade surrounding the buildings. The location is excellent for both individual and public transport with four tram lines, several bus lines, two suburban railway lines passing by the buildings complimented by a small port nearby. In addition, the airport is only a half-hour drive from the Millennium City Center.
TriGranit