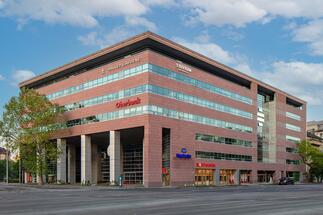 The modernization of the myhive Haller Gardens office building has started more than two years ago. The refurbishment works on the 15 years old building include all the common areas, lobbies, restaurant, the facade signage system, new flexible offices, terraces and as a major part: the garden as well. Viador Átrium Group greatly appreciates to support this project through the whole process.
"The essence of the project was to establish a commonly usable ecology that enriches the workplace community beyond the office areas, and expands opportunities. The completely new atmosphere of myhive Haller Gardens not only offering new features such as a flexible parking system and a high-tech myconference event hall, but also introducing new flexible office solutions to serve tenants to the maximum. Overall, we are very proud of our renewed office building and that our efforts were appreciated by the jury of the BIG SEE", said Ottó Vörös, Country Manager Finance & Support, IMMOFINANZ Hungary.
Viador Átrium Group was the architecture partner of the modernization project. The representatives of the studio are also delighted with the jury's decision.
"We are very happy that after winning the Construction Excellence Award and first place in the Office of the Year Corporate category, we were also recognized at the BIG SEE international competition. We would like to thank to IMMOFINANZ for the trust and to our partners for working with us!", said Gergely Sándor, CEO of Viador Átrium Group.
The BIG SEE Award was founded by Zavod Big, an independent and a non-profit organization to assess and promote the achievements and innovative solutions of the creative industries in the South East Europe region. The jury evaluates the project by different criteria such as innovation, intelligent design and originality, sustainability, social awareness and functionality.
IMMOFINANZ