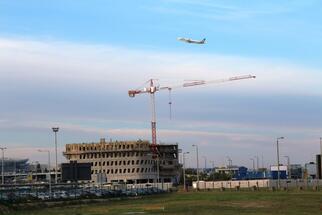 The hotel being constructed near the car park at Terminal 2, in cooperation by Budapest Airport and WING Zrt., is structurally complete. Market Építő Zrt. finished constructing the structure for the fifth floor of the 5200-square-meter hotel at the beginning of May. The building featuring an atrium will offer 145 rooms which will be fitted out by the operator, the ibis Styles hotel chain belonging to the Accor group, to reflect the airport vibe and the trends of contemporary interior design.
The food and beverage unit of the Ibis Styles Budapest Airport Hotel comprises a restaurant with 125 seats and a lobby bar. The restaurant and the bar will be capable of catering for the needs of hotel guests as well as external guests from the airport who would like to use the restaurant or the bar of the hotel between two flights. The hotel also hosts a conference center with a capacity of up to 250 people and is a perfect location for Hungarian businessmen for meetings with their foreign partners at the airport.
At the topping-out ceremony, Jost Lammers, the CEO of Budapest Airport emphasized that the record growth in passenger traffic seen over the past few years at Budapest Airport did not slow down during the first quarter of this year either, so it is important that the projects included in the BUD 2020 development program should be completed on time. The construction of the hotel fits perfectly into the 50-billion-HUF (approx. 160 m euro) investment program of the airport.
Noah Steinberg, chairman-CEO of Wing Zrt said, "WING, Hungary's leading property developer, is the company best positioned to implement complex and demanding projects. These include current developments such as Hungary's largest and most advanced office building, state-of-the-art industrial buildings, market leading retail facilities and the first airport hotel in the country providing direct terminal access. The hotel is important for both Budapest Airport and for Hungary. The hotel will be the building that provides a first impression of the country for arriving foreign visitors exiting the terminal and will fulfill an important function which has been lacking until now. In addition to conventional hotel functions, it also offers meeting rooms for businesspeople, as well as a conference center. The design of the building as well as Wing's operator, ibis Styles, guarantee an excellent experience for users of the hotel. We are proud that together with Budapest Airport Zrt we have created a world class building of functional and architectural excellence for which there is clear economic demand."
WING Zrt Budapets Airport Zrt