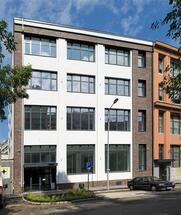 TransferWise, the ground breaking UK-based company introducing transparent low cost money transfers, has chosen Buda Loft Offices as their office location in Hungary. TranferWise is a new entry in the Hungarian market and was looking for several months for the right office location. A creative atmosphere was one of many requirements on the list.
The key driver in their search was finding the right location and office design for the company in order to attract new employees from the IT sector.
The Buda Loft Office building is located in the nice and quiet part of Lajos utca (126-130) and consists of spacious floors with a gallery. It provides industrial feeling in a modern and high quality office environment in a quiet street but close to all necessary amenities and a variety of public transport (HÉV, bus, tram).

Source: Colliers International