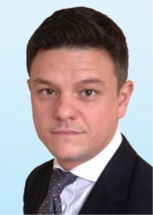 He previously worked for Valad Europe as an international investment/asset manager, where he was responsible for the asset management of a 155,000 sq m mixed use commercial real estate portfolio and to oversee the company's investment activities.

Prior to that, Ferenc spent nearly 5 years at DTZ where he has done Office Agency work with ca 300,000 sqm exclusive office leasing and numerous other multi listing instructions. In 2005 he was promoted to take on an Investment Adviser position within the company.

Mr. Trexler's main tasks will involve the management of the existing office leasing instructions and the acquisition of new project mandates. Additional tasks include providing joint solutions to landlords by providing combined services of Colliers Hungary, such as property management, project management, valuation and investment services.

"I am delighted to join the Colliers Office Agency team. I am really looking forward to the new challenge and hope to contribute to the team success within a short period of time. The given task is a great opportunity to use a wide range of skill sets that I have gathered during the past 10+ years as a consultant and as a landlord representative." – said Ferenc Trexler.

"We are all excited that Ferenc will strengthen our team with his knowledge and supplement us with his expertise gained from his experience on the developers' side.  I am confident that his added value will be an asset to the team leading to increased market share." – added Kata Mazsaroff, Director of Office Acency at Colliers International Hungary.
Colliers