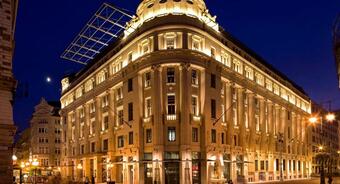 The brand that has been around for 25 years in more than 23 countries all around world opened its second Hungarian shop in Váci1 Shopping Gallery on 6 June 2013. The history of the brand goes back almost 25 years: it started as a small family business and today has almost 60 shops around the world. Yet, it managed to maintain the familiar atmosphere, traditional nature of its products. The philosophy it represents helped the brand to its international success.

Sára Pap, Managing Director of Leman-Line Kft., the Hungarian representative of the franchise said: "They have been planning the opening of a Michal Negrin concept shop in downtown Budapest for a long time and they were looking for a location that fits the image of this unusual brand both in concept and quality. The unique Váci1 Shopping Gallery has everything to offer for opening a fashionable shop that meets our expectations."

"Orco Property Group is delighted to be housing the first downtown shop of such an exclusive, unique brand in the historic building of Váci1. The fairytale like concept shop and the artistic Michal Negrin pieces are a perfect addition to the atmosphere of Váci1." said Orsolya Bánfi, Asset Manager of ORCO Hungary.

Váci1 Shopping Gallery is located in the heart of downtown Budapest, on Váci street and -is a protected monument, being part of the UNESCO World Heritage since 1993. The renovated historic features are uniquely matched with the modern contemporary design which offers novel technical solutions.
Váci1 is easily accessible by 3 different major underground lines (M1, M2, M3), and also there are several tram and bus stops nearby.
The building is within a few minute walk from many five star hotels and tourist attractions of Budapest. 5 nearby parking facilities provide excellent accessibility by car.

For further information visit: www.vaci1.hu
Source: Orco