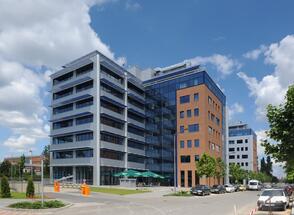 BME-Infokom's primary profile is to provide an institutionalized opportunity for students and experts of Budapest University of Technology and Economics to get acquainted with market demands, so universities, manufacturers, and the whole industrial sector are able to cooperate in a synchronized way in fields of telecommunications and informatics.

The company is interested in Research and Development in various fields of information technology. The main fields of BME Infokom are hardware and software solutions; realization of sensor networks from circuit design through manufacturing to server implementation; indoor and outdoor positioning; mobile application development to every significant platform; innovative telecommunication and data link service development; and customized technical consulting.

'Uniting our Budapest offices is a big challenge for us. We looked for an office building on a strategically good location. The key factor was easy access to our office in Bicske moreover we preferred South Buda location because of our close cooperation with Budapest University of Technology and Economics. Office Garden I proved to fulfil both criteria. Our office with almost 190 employees is situated on one floor therefore the connection among colleagues will be more direct.' - said Dr. Sándor Szabó, director of BME-Infokom.

'Heitman and Robertson Hungary are glad to winning BME Infokom as a tenant. Development conception of the office park based on targeting IT / telecom companies. The encounter has taken place in the right time, because renting such large offices will be shortly difficult in South Buda submarket. Previously the submarket had an extremely high vacancy rate, amounting to 25-30% but since the last quarter of 2012 it has been steadily decreasing. Currently, the vacancy rate in South Buda stands at 12%, which is a long-time record.'- commented Robert Papp, Senior Office Consultant at Robertson Hungary.

'The interest in Office Garden I in the last 6 months, managed by Heitman and represented by Robertson Hungary, is tremendous. New lease agreements were concluded on 3000 sq m moreover, several tenants have recently renewed their contracts. Hopefully this steady achievement will continue and the still available smaller units will find their new tenants.' - summarized Robert Tilki, Managing Director at Robertson Hungary.

South Buda is appealing not only to firms looking for a base close to the universities, but also for those seeking an easily accessible and eco-friendly location. The traffic conditions are ideal in South Buda, downtown and M1-M7 motorways can be reached effortlessly. Thanks to future infrastructural investments, public transport is going to further improve, too. The opening of Metro 4 and tram-line 1 extension will definitely rewrite the submarket's position in the Budapest office market.
Robertson