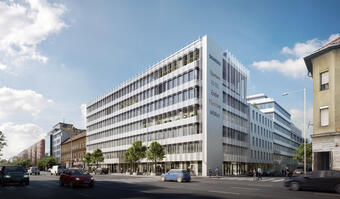 According to CBRE, CEE  office market investment volumes in 2015 was in excess of 3.9 bn EUR, making office products the second most traded in the region. Long-term profitability and high quality are must-have features of an attractive product. However, what more can a developer offer to win in a competitive real estate market? Skanska Commercial Development Europe, a company which in 2015 sold 11 office buildings and achieved a total transaction volume of nearly 500 mln EUR, identifies five key factors which lead to the successful closing of a transaction.

1. Good relationships from the start

Adrian Karczewicz, Skanska's Transaction Director for CEE, says that an open and friendly approach to an investor is the best way to develop a good business relationship and trust. "At the beginning of the year I usually reach out and talk to potential buyers. It helps me to find out what their expectations, needs and investment strategies are for the new year. At the same time I have the opportunity to present profitable CEE markets in which we operate, share our plans for divestments and offer further cooperation with Skanska. Such long-term partnerships with investors are greatly valued by us as they confirm the quality of our work and engender a positive buyer experience," he explains.

2. A smooth and quick transaction process

Skanska's aim is to close a sale within six months from the moment the marketing  of a project begins. To ensure that the process is efficient and simple for investor partners, the company conducts an in-depth evaluation of the building, internally called pre-due diligence. The process is led by external advisors, as it guarantees a third-party opinion about the property's technical documentation and legal status. Careful maintenance of documentation, possession of all necessary permission and expertise, as well as the overseeing of all formalities is a must for a properly prepared investment.

3. A market and yield

"We choose the markets with the highest potential and liquidity in order to provide buyers with a profitable product. CEE assets often provide higher returns than similar ones located in western European countries. According to our extensive market knowledge, the most attractive prime office yields can be found in Polish regional cities, such as Lodz and Katowice (around 7.5%), Krakow and Wroclaw (6,25%), but also in Bucharest (7.5%) and Budapest (7%). Despite a slight dip in the yields of Warsaw and Prague (around 5.5%), these mature markets are still first choice locations for investors," says Adrian Karczewicz.

4. Product quality

A building's technical parameters such as the isolation of underground floors and the quality of rooftop insulation, are also important when selecting a project. A good design and the high quality of construction, underpinned by LEED certifications, assures the buyer that they will not have to make significant capital investments in the property during its operation. "Lifts and efficient ventilation are also of significant importance. It is worth investing in such elements even at the expense of an area that could be used as additional office space. Furthermore, factors influencing the exploitation of office space and employee comfort are also important. Here we can include: BMS (building management system), suspended ceilings and raised floors, hydroisolation, daylight control systems, and an increase in the amount of fresh air per m³/person," adds Adrian Karczewicz.
5. High lease level

Buyers do not want to take the risk of seeking tenants after a property's acquisition so they prefer buildings which are well on their way to being fully let. In case there is a low vacancy rate at the time of a building's purchase, Skanska offers the investor the opportunity to sign a master lease agreement regarding the remaining space for minimum of three years. A high lease level enables the purchaser to estimate, with a fair amount of accuracy, the ROI scale in the long-term. Therefore, the process of acquiring new tenants is of crucial importance and is launched very much in advance, even at the moment when the company starts construction works. Skanska cooperates closely with companies from the business services sector and investors do not need to be convinced that the sector is a good tenant with great development prospects. According to the latest ABSL  report, foreign companies have already established over 1,000 SSC/BPO/ITO  centers in CEE over the sector's 15-year presence in the region. Its employment rate was 335,000 professionals in Q1 2015.  According to McKinsey & Company, the sector could expand to between 850,000 and 1,050,000 jobs over the next ten years. This means that office space demand will be constantly growing, attracting developers and, as a result, investors to both the capitals and regional cities of the CEE region.

Skanska Property Hungary will deliver its latest, A-class, LEED Gold pre-certified office building, namely Nordic Light in September 2016, which will comprise 26,200 sqm GLA. 'We are optimistic about the leasing progress as our current deals pipeline should allow us to reach 100% occupancy till the end of the year. As for divestment process, investors are already showing high interest in Nordic Light and taking into consideration general market improvement. We believe it will be included in competitive purchase pricing" - said Marcin Łapiński, Managing Director at Skanska Property Hungary and Romania.


Skanska