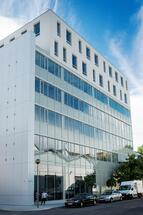 Hungary is definitely on the radars of both tenants and investors. Skanska's Nordic Light is a newly constructed, prime office asset in the center of the Váci Corridor – by far the most established office submarket in Budapest. Providing 26,200 sqm GLA, the property was commissioned for use in September 2016 and is already 86% leased to major international companies such as: BASF, Harman, Schneider Electric, Monsanto, M&C Energia, Mercedes-Benz and Cofidis. This high class investment product attracted Erste Alapkezelő Zrt – one of the subsidiaries of Erste Asset Management GmbH which acts as the asset management arm of Erste Group Bank AG.
"This is our seventh divestment in Budapest. The first Skanska office project in Hungary was sold in 2004. We are pleased to welcome a new partner in Erste. The partnership between our two companies in Budapest is of great satisfaction to us as it confirms that Hungary's real estate market is in rude health. The transaction also illustrates that Skanska's standards and quality products are highly valued here," says Adrian Karczewicz, Head of Divestments CEE at Skanska Commercial Development Europe.
"The Erste Real Estate Fund's portfolio has expanded with the acqusition of another 'A' category brand new office building in Váci út, which offers highly efficient operational possibilities. The acquisition of Nordic Light fits in well with our strategy, which focuses on property purchases from reliable developers that serve the interests of our investors in the long run and have excellent sustainability," Balázs Pázmány, Chairman of the Board at Erste Alapkezelő Zrt commented.
In 2016 the Hungarian commercial real estate market has performed well with a post-2007 high of €900 in completed deals to date. With benchmark yields being set along the way, 2016 could see an end-of-year total in the region of EUR 1.5 bn . In the last three years transaction activity has shown a rapid increase nearing the levels reached before the 2008 financial crisis. The total investment volume was EUR 750 mln in 2015 representing a 25% increase year-on-year. A total of EUR 376 mln was invested in offices during 2015 demonstrating an annual growth of 108% and accounting for 50% of total market activity. This trend looks set to continue over the next few years.
Nordic Light is a seven-story office project located close to the heart of Budapest, in District XIII (the Inner Váci Corridor office district), along Váci Road - the main North-South arterial road of Pest. Its location spans the CBD, Central Pest and Non-Central Pest submarkets, and is still the most rapidly developing area in Budapest. Nordic Light, due to its modern appearance, applied sustainable solutions and LEED Gold certification, will certainly be one of the capital's most up-to-date office buildings, offering a great location to both its tenants and their employees. The building is easily accessible from all directions, both by public and private transportation.
As Nordic Light was being built, the building's immediate surroundings were also being revamped. The passageway connecting Váci road and Visegrádi street has created a pleasant environment for tenants and local residents. New trees were planted around the building and the new public passage connects the community to a garden and other amenities.
During the sales process, Skanska was advised by Colliers International, while Erste was advised by CBRE. Legal advisers for the transaction were NGYL Partners for the purchaser, and Dentons for the seller.

Skanska Erste