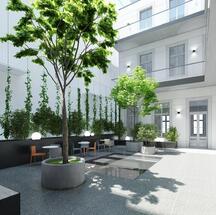 The property, owned by OPTINVEST Zrt is being built by EBH Invest, based on the plans of Pyxis Nautica Design & Build, while Colliers International has been exclusively appointed to lease the building.
Irányi Palace is being rebuilt after 20 years with 3 500 sq m GLA and will welcome its new tenants from mid-2020. The owner pays special attention to developing the building in high quality for companies with the requirement of a few thousand sq m office space in a prestigious, central location, offering an elegant atmosphere.
"The aim of the project is to renovate the existing basement-ground floor and 6 additional floors to meet the requirements of the new function with fulfilling the regulations of heritage protection (such as keeping the facade, staircase and the ballroom) at the same time and building a new, additional floor and attic floor through contemporary construction tools, keeping also harmonization with the neighbouring facades in mind.. We will take on the same approach when meeting our future tenants' functional and design requirements as well, which we will try to harmonize with the atmosphere of this versatile property." – said Dr. Gergő Szöllősi, CEO of Optinvest Zrt.
Colliers International