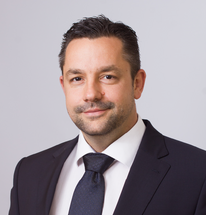 Barabás was employed over the last five years at PORREAL Ingatlankezelési Kft., where his position as a Managing Director encompassed the responsibility of managing a portfolio including 20 office buildings, industrial estates as well as hotels. Moreover, he successfully led a team of 50 members. Before this period, he gained valuable experience as the Head of Property Management and CFO at first facility Ingatlankezelö Kft.
As the CEO, Barabás will be in charge of managing the assets and properties of the Hungarian Portfolio holding excellently located high- quality office buildings along the Danube. Katalin Sermer, who has been leading S IMMO Hungary since 2005, will support him up to the beginning of 2019. Until her retirement effective from 31 January 2019 she will perform an advisory function.
"With Géza Barabás on board of S IMMO Hungary we were able to gain an experienced and qualified CEO, who is truly familiar with the real estate market in Budapest. Having forward-thinking people in our team who promote mobilisation is an essential part of our daily success. It is the decisive factor which enables us to enhance our value development and continuously optimise our portfolio. We would like to say thank you to Katalin Sermer for her successful work and dedication to our team within the past 13 years. All the best for her well-earned retirement", said Friedrich Wachernig, Member of S IMMO AG`s Management Board.
S IMMO