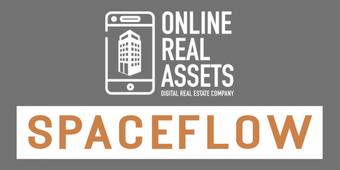 "We are very glad to launch Spaceflow in Hungary as we believe there is a great potential and momentum for disruption in the commercial real estate market. We are already helping landlords transition to digital through our online products, allowing them to build brand and attract future tenants, with Spaceflow technology combined with our community builder team, we will improve tenant relationships and build deeper connections between people, workplace and their neighborhoods, we are certainly very proud that CA IMMO, ERSTE Fund Management and CPI have trusted us with this big step to community management'' comments Vincent Vallois of Online Real Assets, Spaceflow's partner for CEE Region.
Spaceflow is a plug & play tenant experience and community engagement platform that connects space users to amenities, services, and community life with a single click in the mobile app. By enabling landlords and building operators to easily offer the space-as-a-service experience to tenants and guests, Spaceflow helps improve satisfaction, and in turn, attract and retain top tenants to raise profits.
"1,1 million EUR is the cost of losing a single tenant. The price tag is simply too high to ignore. In the past, property owners invested heavily in technology tenants don't see," says Lukas Balik, Spaceflow's CEO and co-founder. "Now, PropTech solutions will not just make buildings smarter, they will help buildings become more people-oriented environments; environments with access to all types of services, amenities and a strong sense of community," Balik adds, "Hungarian VC, Day one Capital together with Credo Ventures and UP21, recently announced its completion of a €1,6 million funded so it was only logical we are opening in Hungary as well. "
While other tenant experience companies typically offer solutions for single buildings customized to every asset, which is a costly process that can take months to institute, Spaceflow emphasizes on plug & play ease of use and efficiency in scaling to service any portfolio size. Thanks to that, it can serve traditional office as well as co-working, or co-living.
"CPI is a pioneer in innovations and community building as we started community work for several years already, Spaceflow is the #proptech tool we have been looking for to enhance our great work and bring it to the next level."- says Bea Deri, PR&Marketing Director Hungary for CPI.
"Following the steps of CA IMMO Czech Republic and the success of the application in Prague, we bring a new era of technology and services to our tenants and their employees, given them the best of A class property as well as extended services and amenities."- says Ede Gulyas, Country Manager for CA IMMO.
Online Real Assets