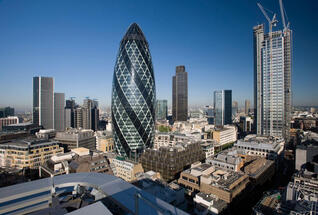 The height of the tower is 180 meters; it is situated on the place of former Baltic exchange (it was damaged in 1992 as a result of IRA attack). The architect tried to use maximum natural light and ventilation.

The tower gain the top - LEED Platinum Certification. The building operates with energy-saving system thanks to which it uses much less power. There are specially designed gaps in each floor, creating six shafts. These shafts are used as a unique ventilation system and create a double glazing effect. Air remains between two layers of glass and isolates the building. The shafts remove warm air out of the building in spring and summer and warm the building in winter with the help of the so-called passive solar heating. The system helps to keep down costs for electricity, as sunlight easily infiltrates into the building. Figuratively speaking, the shafts are used as lungs of the building, distributing fresh air through panels in the façade. Thus, the tower doesn't rely on air conditioning. The 40-storeyed giant offers its visitors shopping facilities, a wide variety of entertainment, including a bar in the dome where the visitors can enjoy a 360° panorama of London.

In 2006 Swiis Re announced about selling the tower for £600 mln. Among the potential buyers there was also the royal family of Abu Dhabi. In 2007 the tower was purchased by IVG Immobilien AG Real Estate Company and Evans Randell Investment Company. The joint purchase cost £630 mln. (almost $1,18 bln). Thus the Gherkin became the most expensive office in Britain. By the way, after the sale Swiss Re continues to occupy the bottom 15 floors, but on lease basis.


Source:officerentinfo.hu