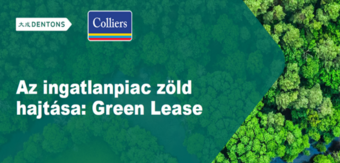 The focal point of the event was a panel discussion that shed light on questions such as what makes a contract 'green', what are the elements of a green lease, what are the advantages of sustainable operations, whether it is driven by business interests or legal obligations, and what exemplary practices can be observed in the market from the perspective of both tenants and landlords.
The professional event was opened by Judit Kővári, Partner and Head of Real Estate at Dentons. The Budapest business breakfast, which was aligned with Dentons' global 'Sustainability Month' event series, focused specifically on Green Leases related to the 'environmental' pillar of ESG. The expert added that 'there was significant interest in the real estate market, and the discussion proved to be a valuable exchange of experiences, highlighting both tenant and landlord considerations along with legal aspects.'
The co-host of the event, Colliers Hungary, a commercial real estate advisory company that has extended and applied ESG (Environmental, Social, and Governance) principles to all its business segments. Their ESG strategic advisory services encompass strategy development, EU Taxonomy assessment, carbon footprint calculation, and CRREM analysis, among others.
Because an established legal regulatory framework is missing, real estate developers, landlords, tenants, as well as legal and business advisors play a crucial role in shaping best practices for Green Leases. 'In tenant and landlord decisions, ESG considerations have started to gain increasing priority, and they have already started to appear in office lease agreements. We are proactively supporting our clients in addressing the important topics they should consider when designing and operating an ESG-conform office space.' said Miklós Ecsődi, Director of Occupier Services, Colliers Hungary.
Norbert Szircsák, Head of ESG Strategic Advisory at Colliers Hungary, delivered an introductory presentation covering various aspects related to Green Leases. These included energy renovation cost sharing, detailed measurement and distribution of tenant and shared energy and water consumption, energy management best practices, fit-out requirements, energy efficiency training for tenants, carbon and energy consumption reduction targets, green energy procurement options, waste management, and sustainable procurement practices. Lastly, Mr. Szircsák highlighted the need to understand various specific requirements related to building certifications.
The subsequent panel discussion aimed to draw attention to questions such as what makes a contract 'green', the key elements of a green lease, the advantages of sustainable operations, whether it is driven by business interest or legal obligation, and what exemplary cases can be observed in the market from both the tenant and landlord perspectives. The panel discussion included participants such as Edina Drabik (IBM Hungary, Managing Director), Dávid Hoffer (Skanska Hungary, Project Manager), Attila Madler (CPI Hungary, Head of Asset Management), Judit Kővári (Dentons Budapest, Partner and Head of Real Estate), and Miklós Ecsődi (Colliers, Director of Occupier Services).
In summary, regarding ESG and Green Leases, it can be observed that there is increasing pressure and more articulated expectations on market participants in terms of sustainability efforts, which are proving to have tangible economic value. However, it is also true that regulation is still taking shape, and market standards have not yet been established. Therefore, the current goal is for market participants to develop best practices.

Source: Colliers, Dentons
The author of the news: OGH News Agency