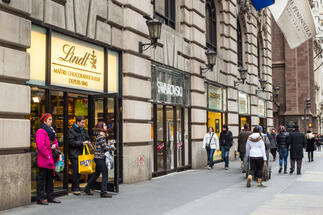 The well-known chocolate brand's first store will open its doors to the public in April 2019 in Budapest where a wide selection will be available on 100 sq m. The new store will be formed along the Boutique concept, Lindt's most dynamically growing business model.
"I am extremely pleased with the work done by JLL's tenant representation, with their professional help we managed to sign a leasing contract for a busy, central location that is worthy of the Lindt brand. Prior to the April launch, we are already deliberately preparing to make our brand more popular among Hungarian customers: during Christmas period we expanded our presence with a broadened sortiment throughout our existing resellers." – said Máté Balogh, Hungarian Sales Director of Lindt.
The client, with more than 400 stores across the globe, have worked together with JLL international real estate agency in the Central and Eastern European region for the first time. Head of retail in the Budapest office, Éva Sréter added: "I am glad that our first cooperation has been so successful and that with our contribution we can welcome a new, quality entrant into the retail market. Lindt perfectly fits in the premium tenant-mix of Allee Shopping Center and we hope that we can represent the client again for a second store opening in a downtown location."
JLL