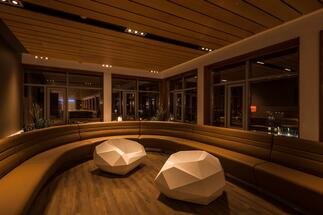 From the Spring of 2014 one of the prominent tenants of the iconic building in Budapest, pempars its employees with new interior design, stylish and unique environment – the refurbishmnet is also the example of the excellent relation between the lessor and the tenant as the landlord completed the construction on behalf of the company.The space functions as an informal meeting room, a café and a lounge area during the day, it is also a bar for company events and promotional parties at night time. It had been designed by the Budapest–based design firm, LAB5 architects, which has unique references.

Zsolt Batár, managing director of LAB5 architects explained that: "The atmosphere was determined by the appearance and the chocolate colours and velvety texture of a creamy liquor. The side bench on the floor plan is drawn among a bend that could be also the curve as a drink is being poured into a glass. Many of the surfaces and furniture reminds the look of ice cubes. The canopy above the counter shows the waves of a drink from beneath.
The interior can be used as a seating area for company gatherings, and also can be emptied for bigger parties. This double-face purpose in a space of a regular office building, leaded to a design that can home also the working hours and the clubbing atmosphere."

The unique architectural forms which had been renewed according to modern principals, also enhance the fact, that West End Business Center is a livable, adaptive building, opened to renewals and competitive with any new office building.
LanceCom