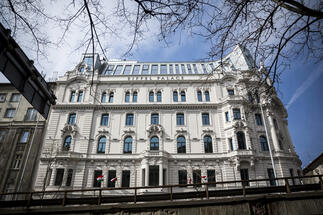 Váci 1 (www.vaci1.hu) won the Best Mixed-use Architecture and the Best Commercial Redevelopment Awards. As the regional winner of the Best Commercial Redevelopment Award from Europe, the recently completed building also got nominated for the Best Global Commercial Redevelopment Award, with results to be announced at IPAX GLOBAL on 12 December in London.

Eiffel Palace (www.eiffelpalace.hu) got Highly Commended in the Office Interior category at the European Property Awards, the most prestigious, and widely recognised property award throughout the regions.
Nominations were judged by an independent panel of 70 industry experts who focused on design, quality, service, innovation, originality, and the project's commitment to sustainability. The judging panel was chaired by Lord Caithness, Lord Best, Lord Liverpool, and Lord Thurso, members of the House of Lords in the UK Parliament. This year's headline sponsor and media partner is The Telegraph.
Top management of Horizon Development and DVM group (Attila Kovács MRICS, Balázs Czár, Péter Haberl and Tibor Massányi) received the trophies on stage, and consider them the greatest acknowledgement of their commitment to excellence as designers, property developers and general contractors of sustainable, prime properties in Budapest, Hungary.

Horizon Development