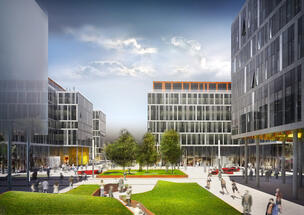 "Winning Atenor Group's property management tender is a very important stage in the growth of our Asset Services business, which aims to become the market leader in Hungary. In addition to the several premium office buildings (Andrássy Palace, Liget Center, Andrássy 100), two major shopping centers of Budapest (Pólus, Campona), the Interspar hypermarkets and the M0 Central Business Park logistics center, the operation of one of the most modern buildings in the Váci Street corridor will be a very exciting and prestigious task for our colleagues." - said Zsolt Kákosy, Head of CBRE's Asset Services.

"We are pleased that we have found the property manager for our multiple award-winning, environmentally friendly and long-term leased building. We expect that the Asset Services (property management) department of the world's leading real estate advisor will provide excellent management service for one of the most remarkable Hungarian office developments, complying with the developer and the tenant. Beside the tenants' expectations and the building's premium standards, the high quality of services offered for the appropriate price by CBRE's team was a key factor in the assessment of the tender." - said Zoltán Borbély, Country Manager of Atenor.

The Building "C" of Váci Greens has had an 'excellent'  BREEAM sustainability rating since 2012, while the office complex as a whole won Bloomberg's "Best Office Development" award in 2011 in Hungary.

At the 2015 Central & Eastern European Real Estate Quality Awards (CEEQA) CBRE won Agent of the Year awards in both the Office Agency and the Capital Markets categories, and also became the Property Management Company of the Year.
CBRE