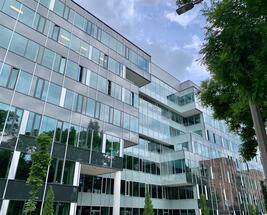 Located in the heart of the Váci Corridor, the hand-over of the sixth and last building of the office campus, Building 'E' will be in September 2020. Thus, the development of Váci Greens will be finished by Atenor this year.
Váci Greens is one of the most significant and successful mega-projects in Budapest in the last 7 years. The development is financed by Atenor directly from its own equity. The office park was the first to receive the BREEAM "Excellent" certification in 2011. Furthermore, Atenor is the first developer to announce in the summer of 2019 that it will design its buildings according to criteria tailored to people with special needs created by Access4you.
All buildings of Váci Greens offer large, continuous and efficient office space with a high-quality, green, ergonomic working environment. This concept is justified by maximum success, as out of the total area of 123,000 m2, 100,000 m2 has already been leased to leading multinational tenants, and out of a total of 6 buildings, 5 office buildings have been sold to various domestic and international investors. The tenants of the Váci Greens office complex currently employ nearly 8,500 people. With the handover of the last phase (Building 'E'), the number of employees will increase to 12,000-13,000.
The Váci Greens 'F' office building was designed by TIBA Architect Studio. The property management company of the building is CBRE and the co-exclusive leasing is carried out by CBRE and Cushman & Wakefield.
Zoltán Borbély, Country Director of Atenor, said, 'Thanks to the excellent cooperation with District XIII, we have been able to continuously tailor the ergonomics of Váci Greens to the current needs of the office market, which has made our project an extremely innovative, highly successful and recognized office complex'.
Atenor