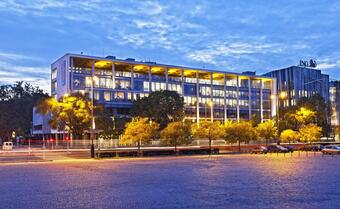 WING has purchased the Liget Center Office Building located at the intersection of Dózsa György Street and City Park Avenue, right across from the City Park, currently under redevelopment. The modernist building was originally built between 1948 and 1950 and was at one time the headquarters of the National Association of Hungarian Workers in the Construction Industry (Magyar Építőipari Munkások Országos Szövetsége); later, in 2002, it underwent complete renovation based on the designs of the architectural firm Egeraat. The building can meet the evolving needs of our times at a very high standard thanks to its well-separated spaces, good functional layout, flexibility and material use that remains up to date to this day. The office building is easily accessible by both car and public transport, with a metro M1 station and a number of bus and trolleybus stops nearby.
The property consists of a 7,000 sqm office building and a nearly 3,800 sqm auditorium; it also has underground parking with 111 spaces and bicycle storage for employees. The office building is currently fully rented out to well-known international and Hungarian businesses; however, the huge auditorium has been vacant for years. WING aims to find the appropriate function for the auditorium and expand the building's range with value-added services.
"We consider it our mission to preserve the Hungarian architectural heritage that defines Budapest, while finding new purpose for vacant properties. In addition to our previous projects involving heritage buildings including Máriássy Building (Máriássy Ház), Millennium Office Building (Millenáris Irodaház) or the office building under 66 Andrássy Street, Liget Center is another good example. Its clean lines, spatial arrangement and architectural quality made this building one of the best office buildings in Budapest both when it was constructed, and to this day. Moreover, the purchase of Liget Center perfectly fits into WING's long-term strategy to expand our property portfolio not only through development projects, but though the acquisition of buildings having huge potential and value as well. The location of the Liget Center complex is excellent, and the redevelopment of the City Park will further boost the value of its location. Our tenants will have the unique opportunity of operating next to Budapest's largest park, which will soon have a new lease on life thanks to its redevelopment", said Noah Steinberg, CEO of WING Zrt.
WING Zrt.