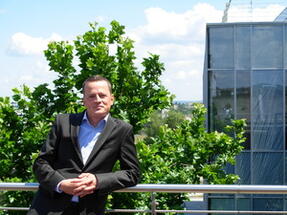 Last year you added - Calvin Center, Duna Office Center Baross to your portfolio whose combined gross rental area of ​​around 30,000 m² in total and you had solid plans on how to touch them. How did your plans turn out?
90% of the planned projects are completed. The Duna Office Center reached for the largest contribution. The building was built 20 years ago in the second half of the nineties was a success not by chance: it was structurally fine, at very good location and with underground car park is also above average. Since the building was very dilapidated and "struggled", we had to make decisions that bring back the reconstruction of the category, rather to category B and make it to be rented to 6-7 € / month / sqm level.
As we see CityZen was still inside, so are they against to renewal? Could you tell us what happened exactly?
Actually, the building was not air-conditioned because of two-pipe structure. We renew it with four pipes and develop the system with all modern engineering solutions. But meanwhile some tenants prefer to stay still at the building.
Can we say that it is not easy and fat to reconstruct office buildings?
Of course there are some difficulties but we designed the work to remain tenants. We tried to do our best to minimize interference, but there were still difficulties. We thank all of them for their consideration. As we began in March, in October the two tenants have moved through levels have been restored. The common areas are almost completely finished, smaller touches are yet to come.
What about Calvin Center?
This building was technically okay, but the operation could not be considered an appropriate level. After we took it over, we refreshed the common areas by ridding of the former executive management, which also has resulted in the occupancy from 60 to 95% in a very short time, with a higher rate of pay. Renovation of the common areas of the Baross utca Office Building B52 has been started, and the building was fully leased in a short time.
The Budapest market steady decline in terms of vacancy rate, but banks are still only willing to finance the overhaul of the old buildings. Why do you think so?
Significant with up to 60-70% pre-lease - which belongs to the category of almost unattainable - is bank financing, I think the last two decades, at least ten such cases have occurred.
The renovations are funded, however, since in this case the product - the building - is already available, so the risk of financial institutions is much lower. But I think that experienced credit dumping until 2009 was good, just too many offices received by the market, the effect of which is up to now. I look forward to more improvements in bank funding will appear in the margin of moderation.
What would you recommend someone who has fresh money to buy ?
I would recommend him to buy an old, but in a good location, undervalued houses, just as what we did a year ago. Everyone can build, but to maintain a desired level or less has been recreated. Anyway, this particular fresh money circling above us here, may soon announce more transactions as well.
---
Contact: [email protected]